Nissan launches All-New 2023 Nissan X-TRAIL in Jordan.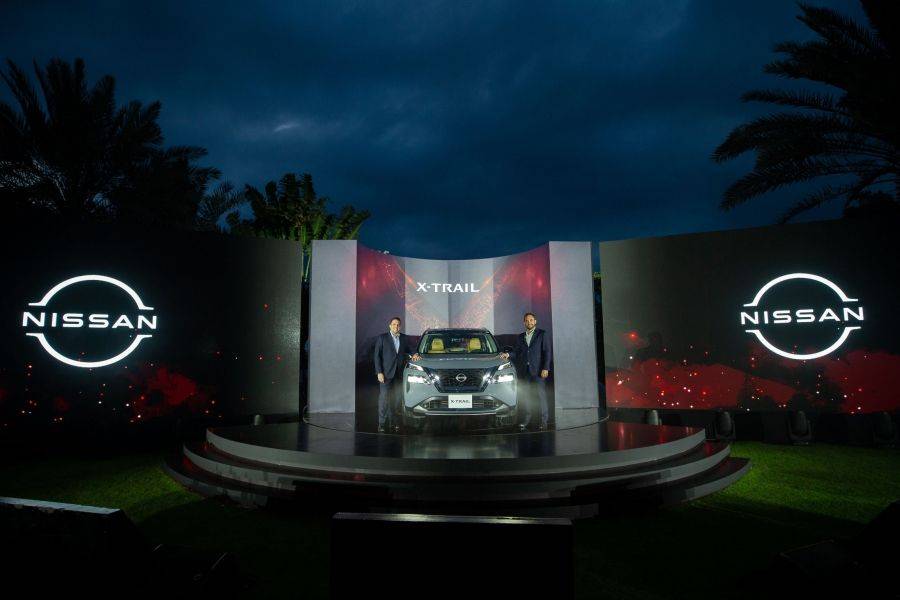 الأنباط -
· The fourth-generation model builds on the 20-year heritage and caters to the needs of families and adventure-seekers in the region.
· Designed as a premium urban crossover, the all-new model features a new engine, striking design, and advanced technologies within its segment.
Amman, Jordan (January 30, 2023) – As part of its strategy to solidify its SUV leadership in the region, Nissan launched the All-New 2023 Nissan X-TRAIL in Jordan. Developed as a Premium Urban Crossover, the All-New 2023 Nissan X-TRAIL furthers the brand's commitment to introduce innovative mobility solutions and offers customers class-leading versatility, elevated exterior and interior designs, advanced safety, and improved levels of capability.
On the occasion of this launch, Bustami and Saheb Trading Company, the exclusive agent for Nissan and Infiniti in Jordan, is holding an event to unveil the all-new Nissan X-Trail 2023 in Jordan next week. Participants in the event will embark on an adventurous journey to discover more about the all-new 2023 Nissan X-Trail.
Participants in the launch event will also be able to see all the features of the new car that challenge the familiar and symbolizes development, the love of exploration, and the freedom of self-expression.
It is a leading vehicle in its class in many ways. The all-new model features the latest Nissan Intelligent Mobility technologies, including the Nissan Intelligent Mobility system ProPILOT Assist, a first for the X-TRAIL lineup, which provides enhanced connectivity with cabin screens that measure a combined 35.4 inches.
On this occasion, Eng. Ekrimeh Mahasneh, CEO of Bustami and Saheb Trading Company, the exclusive dealership for Nissan in Jordan, said: " We are pleased to launch the all-new Nissan X-Trail 2023 in Jordan, a car that combines style, performance, innovation and the most technologically advanced car. Proven by its rapid growth over the last two decades meeting the needs of customers in this segment of mid-size cars in Jordan, this launch is a testament to Nissan's commitment to providing our customers in Jordan with the best driving experience. The all-new Nissan X-Trail 2023 is designed as a modern luxury family car with 7 seats and provide customers with class-leading flexibility and levels of safety.""
This launch of this X-Trail model is an affirmation of Nissan's commitment to Jordan and the Middle East region, which has been an area of ​​great opportunity for Nissan since 1956.
The latest addition to Nissan's impressive SUV lineup, the All-New 2023 Nissan X-TRAIL features a striking exterior design, with distinctive Nissan elements including a signature V-motion grille and floating roof design. Accentuating the X-TRAIL's appeal to families are its bigger-opening rear door apertures, which open to 85 degrees for easier rear access and egress. In addition, the interior received a premium upgrade, underlined by Nappa leather-accented seating with 3D diamond quilting available on the top-of-the-range SL grade.
The 2023 Nissan X-TRAIL is powered by an all-new 2.5-liter four-cylinder petrol engine that, compared to its predecessor, raises power output by 12hp to 181hp, and boosts torque by 11Nm to 244Nm, for more effortless acceleration and confident overtaking. Power is pushed through an advanced Continuously Variable Transmission (CVT) with paddle-shift controls on the steering wheel for manual override of the new shift-by-wire transmission interface.
Making its debut in the All-New 2023 Nissan X-TRAIL is an Intelligent 4x4 system with a direct coupling that reacts faster than ever before, allowing for the seamless power transfer between axles for ultimate stability and traction. A twist-dial Drive Mode Selector provides five driving modes to choose from: Off-Road, Snow, Auto, Eco, and Sports, with the added benefit of Hill Descent Control for carefully modulated downhill off-road driving.
Nissan Intelligent Mobility suite of active safety features is provided with greater capability, making it the safest X-TRAIL ever, with Nissan Safety Shield 360 that includes Automatic Emergency Braking with Pedestrian Detection, Blind Spot Warning, Rear Cross Traffic Alert, Lane Departure Warning, and High Beam Assist. Supporting this is the first-ever introduction of Nissan's semi-autonomous ProPILOT Assist on X-TRAIL, which can accelerate, brake, and cruise at a set speed within a single lane.
The all-new model is available in four grades, with 2WD or 4WD options, offering customers the choice to select the grade that best suits their lifestyle. This is in addition to 15 different color combinations, including five dual-tone options and 5-seater or 7-seater configurations.
The All-New Nissan X-TRAIL 2023, which is the fourth SUV model to sport the brand's latest design language and insignia, following the Patrol, Pathfinder, and KICKS, is available for booking at the exclusive dealership for Infiniti and Nissan cars in Jordan, Bustami and Saheb Trading Company.
###
About Bustami & Saheb Trading Company:
Established in Amman in 1969, Bustami & Saheb Trading Company is the exclusive dealer for Nissan and Infiniti in Jordan and an official dealership for the Chinese EV manufacturer BYD. Today, it is the cornerstone in Jordan and the Middle East in the field of integrated services that it provides. The group offers the highest international standards and the best services for Nissan, Infiniti, and BYD cars through its distinguished facilities and professional staff.
In order to support the Jordanian market with the latest international technology, Bustami and Saheb Company worked to provide the Jordanian market with BYD electric cars, reinforcing its commitment to always satisfying its customers.
Bustami & Saheb Trading Company has achieved significant milestones in the field of car trade in Jordan and the Middle East by launching a set of facilities to display cars of all categories, maintenance centers, sub-agents, and spare part centers across the kingdom. In addition to a specialized system that combines marketing, sales, and leading after-sales services, with one goal of ensuring the highest levels of protection and customer satisfaction, it is the essential component of its success. Today Bustami & Saheb has a growing base of customers, serving them through showrooms, and maintenance centers, in addition to its team of specialized employees, numbering more than 200 employees.
For more information, you can visit our website http://www.bstc.com.jo or call the following number: 06-5532356, and you can also visit our social media pages:
BustamiandSahebCo – Facebook
BustamiandSahebCo – Instagram
Or you can contact us via the following email: bstcinfo@bstc.com.jo.
تابعو الأنباط على