Jo Academy officially launches its e-learning solutions for private academic institutions in the Kingdom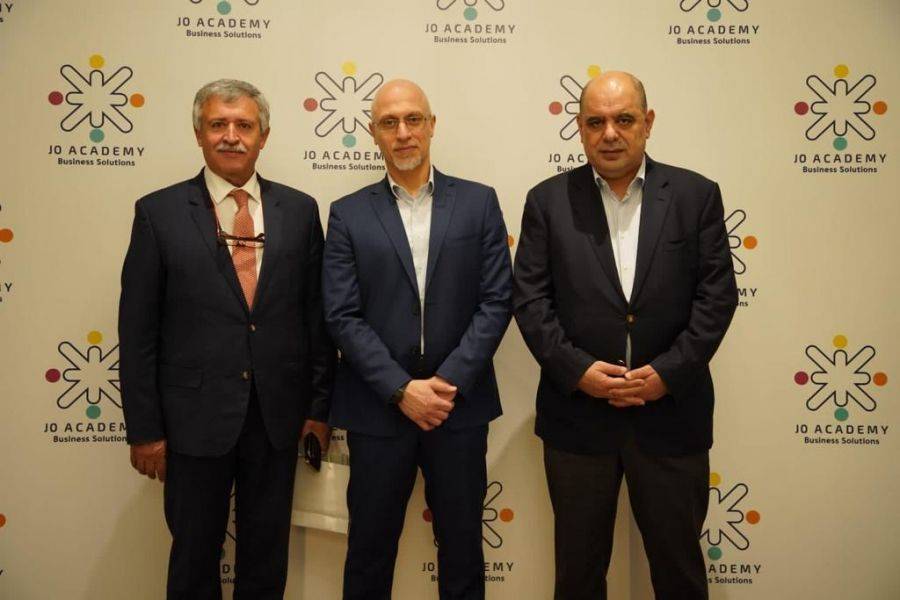 الأنباط -
Al - Anbat - NEVEEN - AL- JARRAH
As part of its efforts to improve the quality of education on a large scale and develop it, "Jo Academy", the million students platform, which is the largest and most modern platform for interactive e-learning in Jordan, launched e-learning solutions for private academic institutions, "Jo Academy Business", as part of a ceremony It was held under the auspices and in the presence of the Minister of Digital Economy and Entrepreneurship, Ahmed Al-Hananda, with the participation of a group of invited officials, as well as educational and administrative cadres in 150 private schools from all over the Kingdom.
The launch event, which was hosted by The Ritz-Carlton Amman, witnessed many activities that shed light on what Jo Academy Business solutions are to introduce them in depth, and the value they add to schools and private academic institutions in the Kingdom.
The package of e-learning solutions for private academic institutions from "Jo Academy" includes the Learning Management System, which allows the beneficiary school to build its own platform for e-learning, and content-making solutions that enable the school to develop its own written and illustrated content, in addition to the ability to provide Schools with the content of "Jo Academy", whether written or illustrated, in addition to the services of providing schools with a database of students and the marketing tools of "Go Academy".
Commenting on this initiative, CEO of "Jo Academy", Eng. Alaa Jarrar, said: "We are pleased to launch e-learning solutions for private academic institutions, "Jo Academy Business", which serves our strategy aimed at achieving our vision in "Jo Academy" of By providing distinguished e-learning for all students of all levels.
And through our solutions built by taking advantage of our technological base and our experience, which is the result of nearly ten years, we aspire to support private schools in the Kingdom in their directions towards digitizing their education by providing them with solutions and tools that make it easier for them to build and own modern channels that bring together the student, teacher and parent within one platform for each of them. To constitute a more productive and effective means of cooperation, communication and supervision, ensuring the provision of an advanced educational experience with interactive digital content related to the curricula, in addition to providing a set of support services for schools in their operational operations.
And Eng. Jarrar indicated that "Jo Academy", which was established in 2014, continues with e-learning solutions aimed at private academic institutions, "Jo Academy Business", providing contemporary educational and academic solutions and models that develop the educational outcomes of students and create educated generations with the outcome of blended education. Mixes traditional and modern.
Jo Academy, which seeks through its basic solutions to provide students with all the high-level educational tools they need that enables them to benefit from its supportive educational programs, in cooperation with a group of professors in various disciplines, has been keen throughout its years of work to contribute to paving the way for building an education Advanced electronic, introducing many solutions and processors.
Jo Academy has many effective partnerships with a list of institutions in order to provide an opportunity to benefit from its solutions, including its partnership with Zain within a partnership aimed at enabling students in the Kingdom to use the study materials recorded and provided through it since 2017, and its partnership with the Ministry of Education At the launch of the "Your Lessons" platform in the year 2020, after assuming the task of filming the lessons in its studios with high quality, as the main provider of the lessons through the platform.
For more information about Jo Academy, you can visit the following link: https://joacademy.co/
تابعو الأنباط على