Marine route connecting Jordan and America encourages exports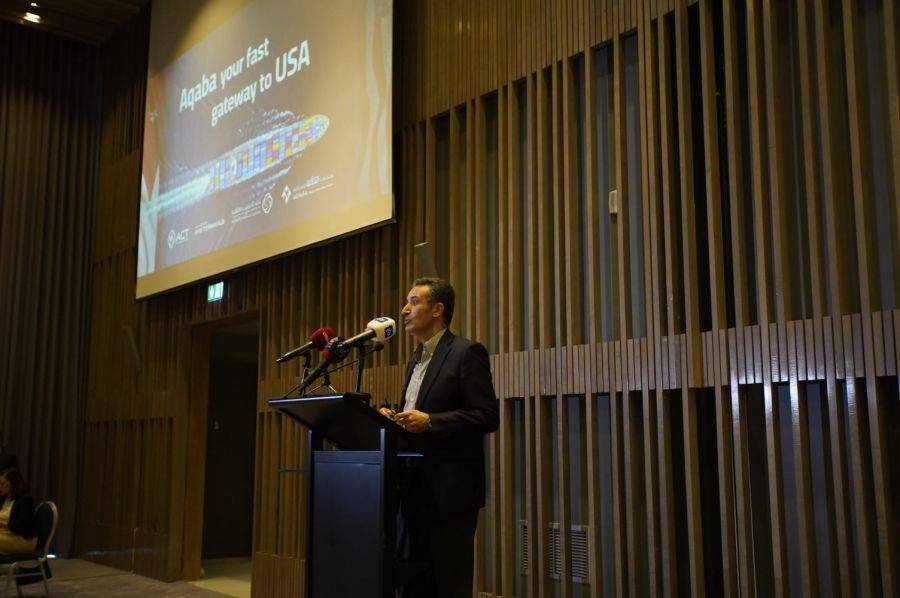 الأنباط -
Al-Anbat-Deena Mhadeen
Translated by:Mays Alshawabkeh
The first sea line for the transportation of cargo and containers between the port of Aqaba containers and the United States of America was opened and activated, according to an announcement made by Aqaba on Sunday.
Hussein Safadi, CEO of Aqaba Development Company, stated that the US-Jordan maritime line's activation seeks to shorten shipping operations between the two nations to a maximum of 23 days instead of 35, saving time and effort on the Kingdom's industrial and commercial sector.
In order to expand the Kingdom's exports and give it access to new markets, he emphasized that the inauguration of the line was a crucial component of the activation of the free trade agreement between the two nations.
He made an announcement two days earlier at the Aqaba Development Company that he would invest in delivering industrial gas to the Al-Qweirah Industrial Zone, which would reduce the cost of energy, which was a significant barrier for industries and businesses in Jordan.
Al Safadi continued, We have developed a medium-term strategy in several areas focusing on four aspects of industrial and tourism investment in Aqaba, the Golden Triangle, vocational training, and logistics to support investment and provide new jobs Al-Aqaba. The Company works to communicate and engage with the public and private sectors to strengthen Aqaba's role as His Majesty the King wanted it to be a logistical and investment center at a regional level.
The Director General of Customs General of Jalal Al-Qudah responded by stating that we are eager to promote and distinguish national exports by streamlining procedures and only submitting them to customs selectivity once all items enter the port.
The new shipping lines represent a fundamental shift in the world of direct shipping from Aqaba to the United States, where time and effort are reduced in transferring goods and containers to and from Aqaba, according to Nayef al-Fayez, the head of the Aqaba Special Economic Zone Authority.
A clear evidence of the enormous value to Jordanian importers and traders in particular in moving all of their imports and exports via this technological alternative is the fact that the container port is competent of handling all imports and exports via these superior maritime lines.
The opening and activation of a sea connection between Aqaba and the United States was commended by Fathi al-Jaghbir, president of the Amman Industry Chamber, as having a good impact on the amount of exports from Jordan and the opening of new markets.
Samer Jouda, the chairman of the board of directors of the American Chamber of Commerce in Amman, responded by saying that promoting economic growth is a shared responsibility for all parties involved and praising the efforts made by the container port and Aqaba Development Company to open and activate this crucial maritime line, which will speed up economic activity and investment while enhancing Aqaba's status as a hub for both.
تابعو الأنباط على