Minister of Youth honors World Artificial Intelligence Competition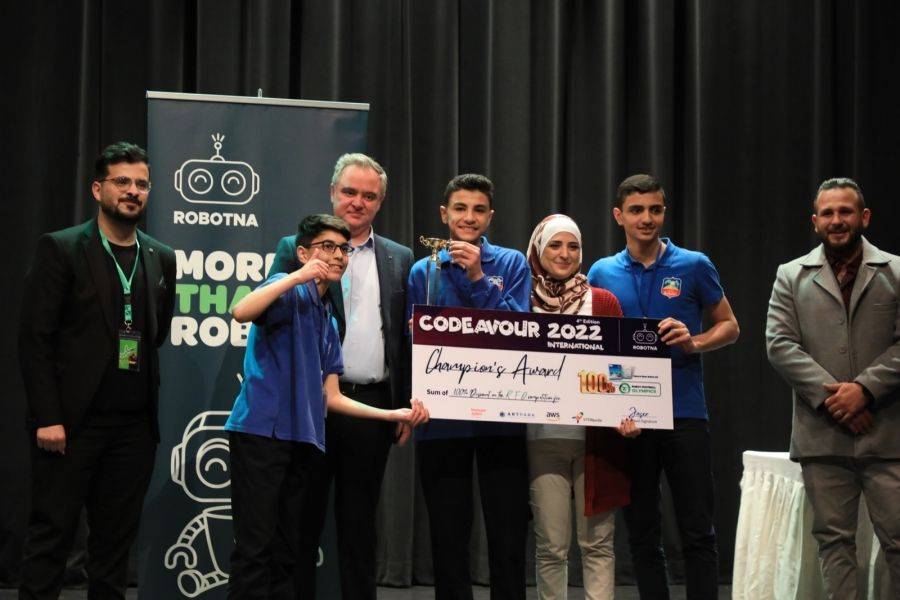 Al-Anbat -
Alanbat - Seham Qasem
Minister of Youth, Mohammad Al - Nabelsi, on Tuesday honored young people who are eligible to participate in the World Competition for Artificial Intelligence "Codeavour 2022" during the event of the " Nation of Innovation" summit that Robotna social company organized it on Monday at the Al Hussein Cultural Center to award Jordanian participants in the World Competition of " codeavour2022" Artificial Intelligence.
In his speech, Nabelsi stressed the importance of empowering young people in artificial intelligence and robot programs and enhancing their creative thinking skills and stating that the Ministry of Youth attaches the utmost importance to the development of robot laboratories and innovation incubators in directorates and youth centers as a reflection of the youth, education and technology pillar of the National Youth Strategy.
Nabelsi valued the societal role of Robotna social company in contributing support to youth and students' participation in global competition.
The founder and CEO of Robotna Jasser Al - Harassis said: " the company has opened the registration door to take advantage of this opportunity for private and government schools and educational entities across Jordan to participate in the fourth edition of international competition for students from the 13 - 16 age groups." And Al- Harassis said: " The scholarship comes from the company's social responsibility and contribution to support young people to learn and compete with their peers globally in technology, robot and artificial intelligence. "
At the end of the ceremony, that 500 young people participated from various public and private schools who qualified for the semi - final stage of the competition announced the 20 winners represented by Jordan who qualified for the final stage of the competition.
During the ceremony, Robotna gave encouragement grants to the winners to participate in Robot Football Olympics, which will be carried out by Robotna in collaboration with Plan International.