More than 250 global experts to address 12th International Government Communication Forum tomorrow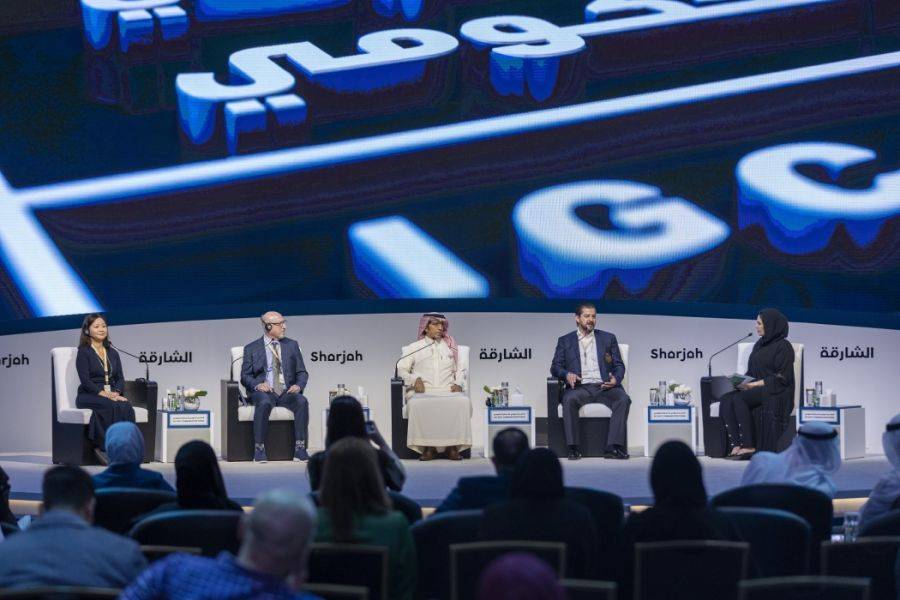 Al-Anbat -
More than 250 global experts to address 12th International Government Communication Forum tomorrow
The 2-day event takes place in Expo Centre Sharjah under the theme
'Today's Resources... Tomorrow's Wealth'
The forum features

90 discussions

,

side sessions,

speeches, workshops & programs

The

packed agenda featur

es

12 main discussions

and

inspiring speeches

14 stages, including four specialised rooms in collaboration with key partners

Four seminar

spaces celebrate the themes of

Sustainability, Arabic Language, Cybersecurity, and

World

Media
For immediate release
Sharjah, September 12, 2023
Under the patronage of His Highness Sheikh Dr. Sultan bin Mohammad Al Qasimi, Supreme Council Member and Ruler of Sharjah, and in the presence of His Highness Sheikh Sultan bin Ahmed Al Qasimi, Deputy Ruler of Sharjah and Chairman of Sharjah Media Council (SMC), the 12th annual International Government Communication Forum (IGCF 2023) is set to convene tomorrow (Wednesday) under the theme 'Today's Resources... Tomorrow's Wealth' in Expo Centre Sharjah.
Organised by the Sharjah Government Media Bureau (SGMB), IGCF 2023 brings together the experiences and expertise of more than 250 thought leaders, thinkers and experts in government communication, both at local and international levels. They will be leading over 90 main discussions, side sessions, inspiring speeches, seminars, programmes and activities on 14 stages in collaboration with 35 local, regional and international partners.
The two-day event will underscore the role of government communication in managing and optimising a country's resources, over 4 main pillars - natural resources; non-material resources of culture, arts, sports, and human capital; technology and data, the wealth of our era. The forum will also explore government communication's role in identifying and optimising sources of future wealth.
In its 12th edition, IGCF will also promote a comprehensive developmental culture, with a focus on individual well-being and strengthening communities' resilience by offering the practical ideas and insights from distinguished speakers, including HE Mariam bint Mohammed Almheiri, UAE Minister of Climate Change and Environment and Chairperson of the Emirates Food Security Council; Frank Caprio, the world famous US judge known as "The Nicest Judge in the World"; David Daokui Li, a prominent Chinese economist and the Director of the Center for China in the World Economy (CCWE) at Tsinghua University; Dr. Raja Al Marzouqi, GCC Chief Negotiator – FTA Negotiation; Dr. Osama Kamal, former Egyptian Minister of Petroleum and Mineral Resources; Dr. Ayman Ayyash, Chairman of the Royal Commission for the Mining Sector, Jordan.
Other distinguished speakers who will address the forum include Maria Antonia, Secretary of the Department of Environment and Natural Resources in the Philippines; Koh Jean, Chairman of the Presidential Committee on Digital Platform Government, South Korea; HE Ambassador Ahmed Rashid Khattabi, Assistant Secretary General of the Arab League; Robin Sharma, renowned global leadership expert and Canadian author; Prof. Dr. Ger Graus, Global Director of Education, KidZania; Ambassador Marco A. Suazo, Director of the United Nations Institute for Training and Research (UNITAR) New York Office; Prof. Dr. Fan Gang, Professor of Economics, Peking University and President of China Development Institute; Prof. Alexander Likhotal, President of the International Green Cross; Dr. Inhyok Cha, Digital Twin TF team leader of the Presidential Committee on the Digital Platform of the Republic of Korea, Sheikh Salman bin Mohammed Al Khalifa, CEO of the National Center for Cybersecurity, Dr. Mohamed Hamad Al-Kuwaiti, Head of Cyber Security for the Government of the UAE, Eng. Khalifa Musabeh Ahmed Alteneiji, Chairman of the Department of Agriculture and Livestock in Sharjah.
Optimal resource investment
Over the course of two days, IGCF 2023 will highlight the importance of strengthening partnerships between countries to achieve optimal resource investment and utilisation. It will shine light on successful global experiences and practices in resource investment, such as food and water security and the adoption of green energy sources. The forum will also explore the significance of non-material wealth for societies, including human and cultural wealth encompassing heritage, arts, sciences, talents, education, and technologies, while emphasising the role of government communication in defining these assets' concepts, highlighting their value and impact on development.
IGCF will also address the challenges and solutions in building and preserving these forms of wealth, and demonstrate ways in which society can transform them into a key fuel for socioeconomic progress.
-ENDS-
Attached Photos:
1- International Government Communication Forum (IGCF 2023) logo
2-7 Archived photos of IGCF 2022