Demand for sheep wool declined due to poor marketing processing and recycling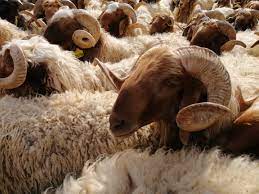 Al-Anbat -
Al-Anbat - Raghad Saad
At the beginning of May of each year, among livestock breeders in various regions of Karak Governorate, as well as in the rest of the Kingdom's governorates, the ritual of beginning the season of shearing sheep's wool "sheep clipping" spreads to relieve them from the summer heat, amid a significant decline in demand for it as an additional source of income for sheep owners and a national wealth wasted.
Many customs and traditions that accompanied the season of retribution in villages and pastoral areas have disappeared from social life as a result of the disappearance of many uses of wool and the weakness of the marketing, manufacturing and recycling process to become a burden on them and the search for any way to get rid of it.
The head of the Livestock Breeders Association in Karak, Eng. Zaal Al-Qualit, said that the problem of wool is an old problem that needs the concerted efforts of everyone to find a solution to it in light of the decline in demand for it, pointing out that it has become one of the manifestations of environmental pollution due to the disposal of livestock breeders by leaving it on the sides of roads, plains and pastures.
He called for the exploitation of wool by finding a factory to invest in from the Environmental Compensation Fund, in addition to developing an economic feasibility study to show its economic effects on livestock breeders and the private sector, indicating that wool is an additional source of income for farmers in addition to other sources of selling milk, dairy products and sheep. He pointed out that there are about half a million heads of livestock in the governorate that produce about a thousand tons of wool annually.