Discussing enhancing cooperation between the Jordan and Abu Dhabi Chambers of Commerce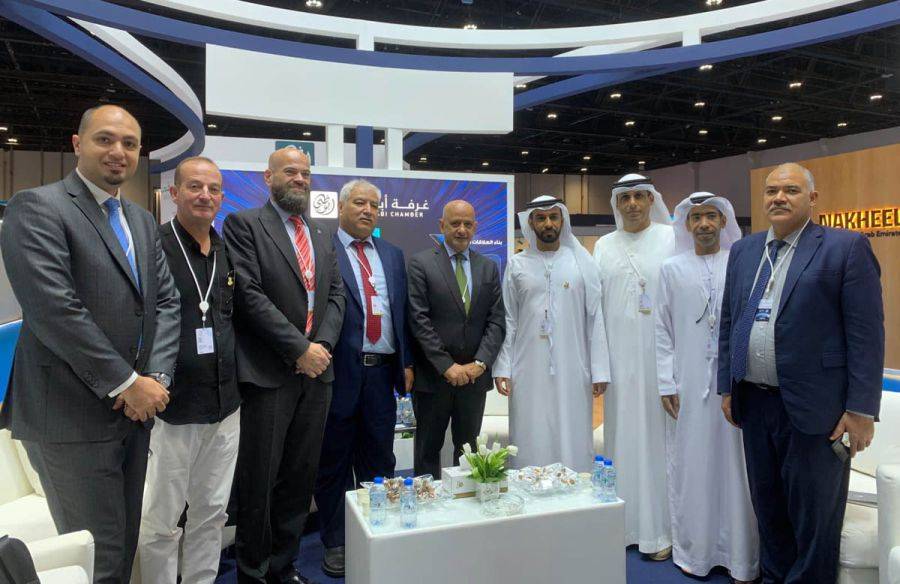 Al-Anbat -
Al-Anbat - Majdoleen Sarrar
The Chairman of the Jordan Chamber of Commerce Khalil Haj Tawfiq discussed with the First Vice Chairman of the Abu Dhabi Chamber of Commerce and Industry, Dr. Ali Saeed Al Dhaheri, ways to enhance cooperation and coordination relations between the two sides to serve the interests of the two brotherly countries trade and investment.
According to a statement by the Jordan Chamber of Commerce on Thursday, the meeting, which was held on the sidelines of the Annual Investment Forum 2023 in Abu Dhabi, dealt with ways to enhance coordination and cooperation between the two chambers in terms of exchanging visits of trade delegations and experiences, holding joint exhibitions, and exploiting investment and economic opportunities available in the two countries through joint partnerships.
Haj Tawfiq stressed that Jordan and the UAE have deep and deep-rooted relations in various fields and have reached advanced levels of coordination and cooperation, especially in trade and investment affairs and joint projects in many strategic sectors with added value.
He pointed out that the integrated industrial partnership that includes Jordan, the UAE, Egypt, and Bahrain is considered a foundation for achieving economic integration between their countries in many vital sectors, and will have profound strategic benefits on their peoples, pointing to the importance of the agreements signed in the sectors of agriculture, pharmaceuticals, metals, chemicals, and electric cars.
He stressed that the Jordanian private sector is looking forward to increasing and expanding UAE investments in the Kingdom, estimated at about $ 17 billion, in addition to strengthening cooperation in many sectors, especially transport and logistics, pointing to the reforms that have been completed to develop the investment environment and facilitate investors and business owners.
Haj Tawfiq pointed out that there are many opportunities available to enhance the prospects of trade exchange between Jordan and the UAE by focusing on non-oil commodities, especially in the sectors of agriculture, foodstuffs, clothing, medical devices, pharmaceutical industries, and others.
It is noteworthy that Jordan's exports to the UAE during the past year amounted to about 182 million dinars, compared to 1.503 billion dinars worth of imports.
The Kingdom's exports to the UAE are concentrated in the products of the chemical or related industries, medicines, fresh vegetables, food industry products, textile materials and their manufactures, jewelry, machinery, electrical appliances, and equipment.
The meeting was attended by the Third Vice President of the Jordan Chamber of Commerce and Chairman of the Tafila Chamber of Commerce Odeh Al-Qutaitat, Falah Al-Saghir from the Amman Chamber of Commerce and Ahmed Odaibat from the Jerash Chamber of Commerce.