Signing an agreement between Jordan Post and Money for Finance Company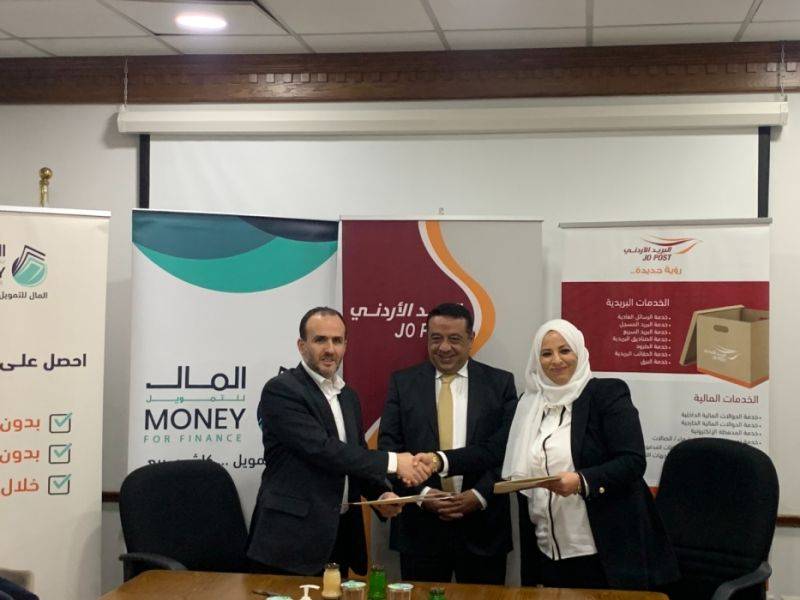 Al-Anbat -
Dema Hina
The Jordan Post Company and Money for Finance Company signed an agreement to enhance common cooperation in the field of expanding the base of post offices used by Money for Finance Company to provide financing services to individuals.
According to a statement by the postal company on Saturday, the agreement was signed by acting general manager of the company, Hanadi Al-Tayeb, and the general manager of Money for Finance Company, Bashar Maayah, in the presence of the Chairman of the Board of Directors of the Jordan Post, Sami Al-Dawood.
Al-Dawood said that the agreement comes in implementation of the national strategy for financial inclusion announced by the Central Bank when launching the strategy's vision and mission document in September 2016, which confirms that citizens have the right to access financial services.
He added that the Jordanian Postal Company has a strategy to take advantage of the development witnessed by the world in the field of digital transformation to develop its services to citizens. It has introduced modern means to provide e-mail services and will launch e-commerce projects in the coming days, in addition to expanding the provision of financial services and e-payment services by e-wallet.
For her part, Al-Tayeb confirmed that the services provided by Money for Finance Company currently cover 30 post offices, noting that the company is wholly owned by the government operates within the framework of a plan to expand partnership with the private sector, and therefore this agreement will allow the delivery of financial financing services provided by Money for Finance Company to new regions, especially in the regions of the governorates away from the capital, Amman, which reflects the services provided to citizens.
Maayah indicated that the partnership with the Jordan Post is a strategic partnership due to the distinguished spread of post offices in various governorates of the Kingdom, which allows all segments of Jordanian society to access the services provided by the company in their places of residence.
He pointed out that Money for Finance is a financial technology compnay whose aim is to facilitate the process of earning financial support and provide the possibility of paying at a later time with ease, and one of its primary objectives is to finance individuals, and provide financial services that take into account daily and emergency needs, including commercial and Islamic loans.