Research the development of economic relations between Jordan and Hungary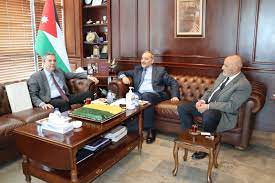 Al-Anbat -
Al-anbat- Raghad Saad
The Vice President of the Jordan Chamber of Commerce, Jamal Al-Rifai, discussed, during his meeting with the Hungarian Ambassador to the Kingdom, Attila Kali, ways to develop economic and trade relations between the two countries, and the role of the chambers of commerce in strengthening them.
According to a statement by the Chamber, on Saturday, the meeting dealt with developing cooperation in many economic issues of common interest, networking between business owners from the two countries, and strengthening partnership between them.
Al-Rifai stressed the need to hold a Jordanian-Hungarian business forum on the sidelines of the joint Jordanian-Hungarian committee, which will be held later this year, with the aim of presenting investment opportunities in the two countries and focusing on sectors that can be marketed.
In turn, Cali pointed out the need to strengthen economic relations between the two countries, and take advantage of the available opportunities, in addition to exchanging visits of delegations and trade missions.
The statement indicated that the meeting, which was attended by members of the Chamber's board of directors, Arab Al-Smadi, Ibrahim Al-Nawaisa, Firas Sultan and Hammam Habankah, focused on the necessity of continuing the meetings and exchanging information in a way that would reflect on the commercial exchanges of the two countries.
It is noteworthy that the Kingdom's exports to Hungary during the past year amounted to 1.15 million dollars, compared to 34 million dollars of imports.