US stock indexes decline over 400 points in New York Fiscal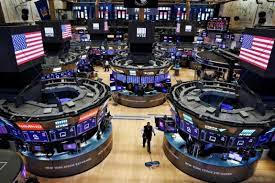 Al-Anbat -
Al-Anbat-Mays Alshawabkeh
U.S. market indices plummeted more than 400 points on Monday after seeing gains the previous weekend. Prior to today's closure, the Dow Jones industrial average dropped more than 200 points to 33,748.
Additionally, the S&P 500 lost more than 40 points to reach 4,023, and the heavy technology-focused Nazdaq lost more than 200 points to reach 11,436.
Aside from that, the price of crude oil from Western Texas dropped to $77 per barrel and the cost of gold dropped by $6 to $1923 per ounce.