Jordan and the UAE stress the need to strengthen Arab electrical interconnection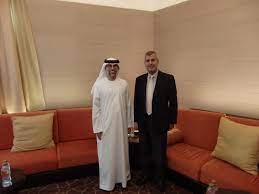 Al-Anbat -
Al - Anbat - NEVEEN - AL- JARRAH
The Minister of Energy and Mineral Resources, Dr. Saleh Al-Kharabsheh, discussed in Abu Dhabi with the UAE Minister of Energy and Infrastructure, Suhail bin Muhammad Al Mazrouei, common interests in the field of energy and the global situation with regard to oil, gas, renewable energy, and green hydrogen.
According to a press release issued by the Ministry of Energy and Mineral Resources today, Wednesday, the two sides stressed the need to strengthen electrical interconnection between Arab countries because of its benefits in facilitating the establishment and management of electric power generation projects in each country and reducing costs.
Al - Kharabsheh visited the Emirates National Oil Company (ENOC) in Dubai, and discussed with the CEO of the company, Saif Hamid Al Falasi, opportunities for cooperation and investment in the field of logistics for oil and oil derivatives.
The meetings come as part of Minister Kharabsheh's participation in the activities of the annual Abu Dhabi Sustainability Week, which coincides this year with the meetings of the General Assembly of the International Renewable Energy Agency (IRENA).