China: lifting the quarantine on travelers arriving from abroad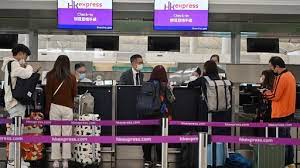 Al-Anbat -
Al-Anbat-Noor Banihani
China lifted on Sunday, the mandatory quarantine for travelers from abroad, thus ending its self-imposed isolation at a time when it is facing a new epidemic wave of COVID-19.
Last month, China abruptly lifted most of the measures to combat the pandemic after three years of restrictions, considered some of the strictest in the world, burdened the Chinese economy and led to nationwide demonstrations.
According to the "Xinhua" news agency, today at Beijing Airport, the barriers separating incoming international flights from domestic ones have disappeared, as have employees wearing protective suits, which have been an essential component of Chinese life since the imposition of the "zero COVID" policy.
The quarantine was originally for three weeks, but then it was reduced to a week last summer and then to five days last November. The announcement last September urged the imminent lifting of the quarantine, which led to a huge increase in traffic on flight booking sites in Hong Kong. Also, the strict restrictions on movement to and from China were eased today.
Hong Kong's stagnant economy is making every effort to resume growth. And now 50,000 Hong Kong residents can cross the border daily at three land crossings after registering their names online, and another 10,000 are allowed to enter by sea, air, or across the bridge without having to register their names in advance, according to what the head of the executive authority in Hong Kong said. Lee, Kong Jun.