The INFINITI Middle East QX60 campaign rolls in with an animated take on the modern Arab family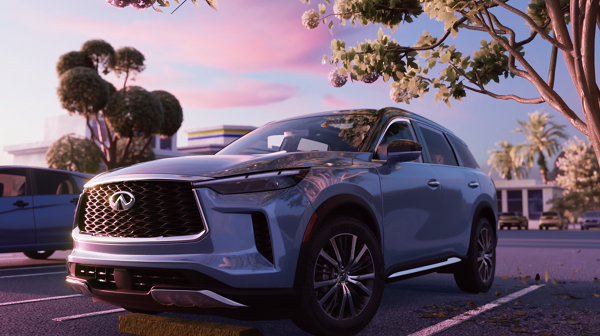 Al-Anbat -
TAKING THE WHEEL
The INFINITI Middle East QX60 campaign rolls in with an animated take on the modern Arab family
Amman, Jordan 04 JAN 2023 — INFINITI marks the Middle East launch of the QX60 through an uncommon and captivating contemporary campaign with family at its heart.
As a human-centric brand, the creative approach was inspired by a human insight…
INFINITI Middle East's QX60 campaign, Taking the Wheel, is an animated brand film that appeals to the real-world family dynamic of a modern Arab household, where working parents balance household responsibilities, and navigate the joyful chaos of life, work, and family. The campaign's objective is to entertain the whole family while showcasing the car in a compelling light.
Conventionally, the approach to automotive product communication is more direct and targeted towards adults, INFINITI Middle East took a more disruptive route in appealing first to kids, yet ultimately creating a moving piece of content that will resonate whether you're a parent or not.
Commenting on this special campaign, Ekrimah Mahasneh, CEO of Bustami and Saheb trading Group, the exclusive agent for Nissan and Infiniti cars in Jordan, said: "The release of this film is a very special way to develop the approach to communicating with families, as Infiniti cares about its relationship with its customers who are the foundation of its success. The Infiniti QX60 represents luxury and elegance in all directions, and therefore, the launch of this great film is another aspect that highlights the car with a creative idea that includes the integration of all family members. The film "Take the Drive" is a summary of Infiniti's ideas of creativity.
"It certainly is a bold approach to launching a new vehicle," says Andrew McLaughlan, Managing Director, INFINITI Middle East. "But bold is the very definition of the All-New INFINITI QX60 and being daring is a core value of the brand. If you see yourself in one of the characters, catch yourself smiling and immersed in the moment or humming the soundtrack after viewing… mission accomplished! Staying true to INFINITI's legacy, the QX60 has been reimagined from the ground up with the human experience at the center, and this brand film well represents the vehicle's very intentional design."
Eight months in the making, the project was conceived by Zombie Production House in Brazil and initiated by INFINITI Middle East's creative agency PUBLICIS Q. Added to the unique creative approach, Taking the Wheel will be shown in select cinemas across the GCC ahead of many of the season's most anticipated new releases, and will be supported with its very own "Now Showing" film posters.
Taking the Wheel is available to view across INFINITI JORDAN's social media platforms, or from this link: https://bit.ly/3BeTUV1.