President of Emirates opens 'Sheikh Zayed Mosque' in Indonesia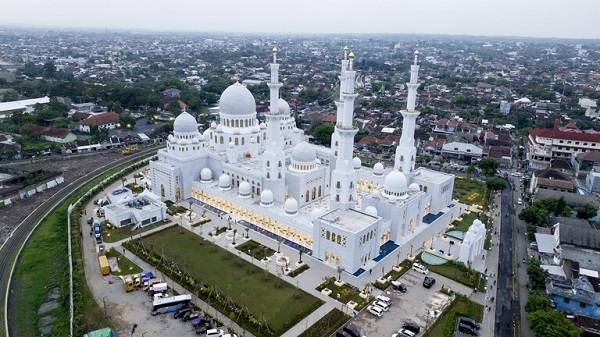 Al-Anbat -
Al - Anbat - Lima Zeitawi
Sheikh Mohammed bin Zayed Al Nahyan, President of the UAE, opened on Monday, the Sheikh Zayed Mosque in the Indonesian city of Solo, in the presence of President Goku Widodo.
Bin Zayed said in a tweet on 'Twitter': "We were pleased to open the" Sheikh Zayed Mosque "in the beautiful city of Solo, Indonesia, accompanied by my friend, President Goku Widodo ... an initiative that expresses the meanings of interdependence, love and cooperation on the good that Sheikh Zayed was embodied, may God have mercy on him ... We ask God Almighty is to perpetuate goodness and happiness over the Indonesian people.
The mosque was built with the same engineering design of the Sheikh Zayed Grand Mosque in Abu Dhabi, and it was created by Makarma from Bin Zayed.
There are many mosques bearing the name of Sheikh Zayed in Europe among them in Stockholm, Sweden, which can accommodate 2000 worshipers in normal days and 5,000 worshipers in holidays, and the Sheikh Zayed mosque and center in 'Slaw' west of London in the United Kingdom, which accommodates the mosque for more than a thousand worshipers, And the Sheikh Zayed Mosque in Oxford, UK, with a capacity of about 1000 worshipers.