DAY OF THE DEAD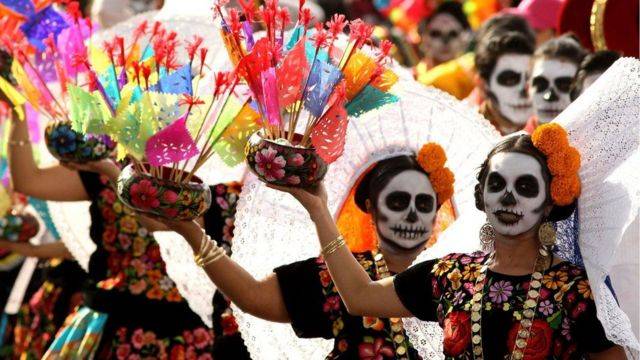 Al-Anbat -
Is a traditional Mexican celebration prior to the conquest. As every year in the different regions of Mexico, the communities celebrate the temporary return of their deceased relatives and loved ones. It's a syncretic festival between the pre-Hispanic culture and the Catholic religion that, given the pluricultural and multiethnic nature of the country, has given rise to diverse popular expressions, transmitted from generation to generation and which, over time, have been added different meanings and evocations according to the indigenous people, community or group that carry them out, in the countryside or in the city.
In the celebration of the Day of the Dead, death does not refer to an absence but to a living presence; death is a metaphor for life that materializes on the offered altar: those who today offer to their dead will be invited to the party in the future.
Due to its extensive history and contribution to the culture of Mexico, in 2003 the celebration of the Day of the Dead was named by UNESCO as Oral and Intangible Heritage of Humanity. This celebration is a mixture of joy, prayers, songs and food.
The Altar - Offering is the main element of the celebration of the Day of the Dead, that is prepared each year before the arrival of the souls of deceased loved ones to welcome them to their homes on the eve of November 1 and 2. The elements are: Salt; Calaveras de azúcar; Cempasúchil flowers; Pan de Muertos (Dead bread) in the Altar, La Catrina; Papel Picado and Petate.
This year the Embassy of Mexico dedicates the Altar to Armando Manzanero, Mexican composer, singer, actor, musician, and producer, considered one of the most successful composers in history.