German Jordanian University and Queen Rania Academy offers six scholarships to local community members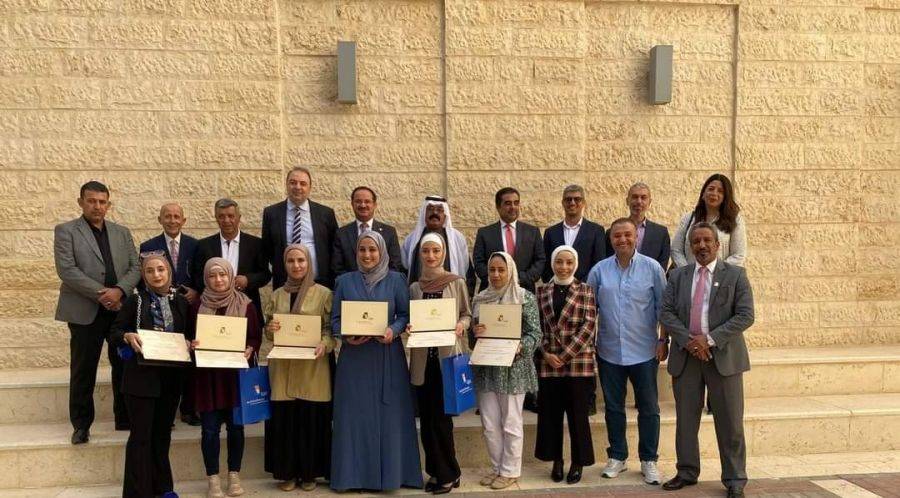 Al-Anbat -
Al -Anbat - Lima Zeitawi
The German Jordanian University, in cooperation with the Queen Rania Academy for Teacher Training, has provided six scholarships for a professional diploma in education for the local community of the area surrounding the university from Naour District and Madaba Governorate.
The nine-month scholarships are aimed at community members who hold a bachelor's degree and have a desire and passion for the teaching profession and improve the quality of education in Jordan.
The President of the University, Prof. Dr. Alaa El-Din Al-Halhouli, indicated during the award ceremony, in the presence of the Academy's CEO, Dr. Osama Obeidat, Deputy Firas Al-Ajarmeh, the Mayor of Husban Abdul Karim Al-Ghanim, the Mayor of Madaba Aref Al-Rawajeh, and the President of the Al-Ajarmah Clans Council Muhammad Al-Sawair, to the university's relentless endeavor to develop partnership with the local community in a systematic and sustainable manner. To contribute to his service and the development of his children's skills.
Al-Halhouli pointed out that the university organized a series of programs for the children of the university community, including the first university for children, the sixth scientific camp for creativity and innovation, and the summer camp for the children of the community.
For his part, Obeidat gave a brief about the academy and its programs, appreciating the university's role in serving the local community and providing valuable opportunities that support the academy's efforts and help develop teachers' skills and knowledge within the classroom.
Al-Ajarmeh praised the university's role in serving the local community and its aspiration to deepen the bonds of cooperation through the allocation of targeted and qualitative programs in addition to what is offered, by allocating purposeful and qualitative programs targeting his children, gaining new experiences and helping them to find distinguished job opportunities after graduation.
The Professional Diploma program includes general learning and teaching methodologies in specialized detectives and the practical application of theoretical frameworks to prepare teachers, develop their skills,
and make the learning environment innovative and creative.