The King and the Japanese Prime Minister Discuss Friendship, As Well As Regional and Global Developments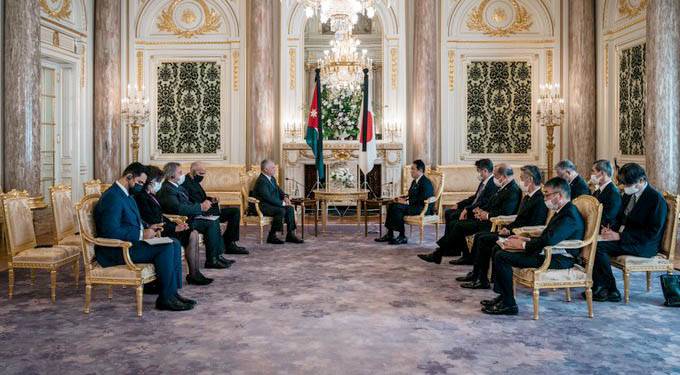 Al-Anbat -
Al-Anbat- MAYS ALSHAWABKEH
Tuesday in Tokyo, His Majesty King Abdullah II met with Japanese Prime Minister Fumio Kishida to discuss the close ties of friendship between their two nations as well as the current regional and global events.
His Majesty gave opening remarks during the meeting in Akasaka Palace, expressing condolences for the passing of former Japanese Prime Minister Shinzo Abe and applauding his contribution in fostering collaboration and coordination with Jordan and the surrounding area.
The late former prime minister's efforts should be built upon, His Majesty emphasized, by continuing to strengthen Jordan and Japan's cooperation and partnership in all areas. He also emphasized that Jordan is a friend and ally of Japan and its people.
At the start of the meeting, the Japanese Prime Minister reiterated his nation's intention to deepen its collaboration with Jordan. He recalled the previous Prime Minister's desire to do so since Jordan serves as a focal point for stability in the Middle East and emphasized the need to build on those efforts.
When thanking His Majesty the King for coming to Tokyo to attend the official funeral of former Prime Minister Abe, Prime Minister Kishida made reference to the close ties between the Jordanian royal family and the Japanese imperial family.
During the meeting, His Majesty Prince Ghazi bin Muhammad, His Majesty's Senior Advisor on Religious and Cultural Affairs and His Majesty's Personal Envoy, expressed gratitude to Japan for supporting Jordan in a number of development programs.
It was emphasized that, for the sake of the two friendly nations and peoples and in order to further ensure international peace and security, coordination and consultation on a variety of subjects of shared concern should be continued.
His Majesty emphasized the necessity of stepping up international efforts to settle the political conflicts in the Middle East, particularly the Palestinian issue.
His Majesty the King praised Japan for its support of peace efforts and emphasized the need to re-energize the peace process on the basis of the two-State solution.
The Jordanian Ambassador to Tokyo, Lina Annab, as well as Dr. Jaafar Hassan, Director of His Majesty's Office, were present during the meeting.
To attend the official burial service for former Japanese Prime Minister Shinzo Abe, which will be held in Tokyo today in front of leaders and officials from around the world, His Majesty the King is currently visiting Japan.