Ahlan Simsim Collaborates with Raya Abirached in its 6th Season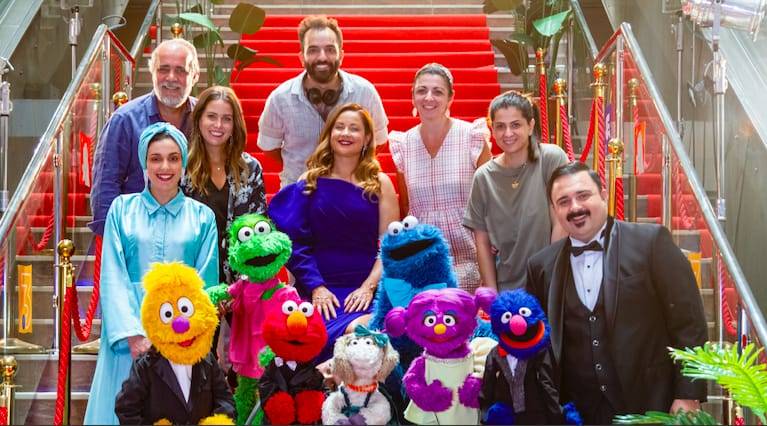 Al-Anbat -
Ahlan Simsim, the award-winning children's show from the creators of Iftah Ya Simsim and Sesame Street shows around the world, is collaborating with Arab celebrity Raya Abirached on a special episode.
Abirached is a Lebanese TV presenter, producer and celebrity journalist known for co-hosting the TV show Arabs Got Talent and the entertainment news show Scoop with Raya on MBC. As one of the Middle East's most prominent entertainment reporters, Abirached has reported from the world stage during the Academy Awards, the Cannes Film Festival and countless global film industry events. A UNHCR Goodwill Ambassador, Abirached has been a strong voice for supporting and empowering children, particularly those impacted by displacement. This made her a natural partner for Ahlan Simsim, as the educational TV show is part of a wider humanitarian program aimed at supporting children and families affected by crisis across the region.
The primary educational objective of Ahlan Simsim's current season is to strengthen children's problem-solving abilities through the use of imagination, a vital component of children's adaptability, and their social and emotional wellbeing. Abirached's special appearance in the last episode of the season emphasizes the importance of imagination for children as they cope with everyday obstacles.
In the episode, one of the show's beloved characters, Ma'zooza, does a good deed that thrusts her into the spotlight. Ma'zooza is invited to attend a high-profile red-carpet event where she's told she will be interviewed by a celebrity. Ma'zooza experiences big feelings – she's excited and nervous at the same time. She overcomes her fears through preparing for the event by imagining herself walking down the red carpet for her interview, and when the time comes, she practices her newfound skills as she meets Abirached for an interview.
"We are tremendously excited to be working with the multi-talented Raya Abirached," said Estee Bardanashvili, Senior Director and Supervising Producer of Ahlan Simsim at Sesame Workshop. "A role model for many in the region, Raya is a true example of the power of following one's dreams. We hope she inspires our young viewers to believe in themselves, use their imagination, and confidently pursue their goals."
"Shooting the episode of Ahlan Simsim was unusually special. Not only because of what the characters themselves meant to me growing up. But also because of how excited my daughter was about it. And mostly the wonderful atmosphere on set made the day extra special," said Abi Rashed.
Since its launch in February 2020, Ahlan Simsim has reached over 18 million children across the Middle East and North Africa. The show received a 2021 International Emmy nomination for the episode "Piece of The Past" and won the 2022 Anthem Gold Award for Special Projects in Humanitarian Action & Services.
Full episodes and bonus content are also available on the Ahlan Simsim YouTube channel. Visit www.ahlansimsim.org for storybooks, and a variety of materials to support young children's at-home learning.
About Ahlan Simsim
Ahlan Simsim is an Arabic-language version of Sesame Street that follows the adventures of diverse cast of friends exploring their world. Each episode features familiar Muppet friends, animated characters, and trusted adults who help our characters set goals, persevere, and feel positive and powerful, all with lots of laughter and learning along the way. Learn more at www.ahlansimsim.org
Ahlan Simsim is part of a broader humanitarian initiative of the same name, in a partnership between Sesame Workshop and the International Rescue Committee (IRC). Aimed at delivering early learning and nurturing care to children and caregivers affected by conflict and crisis, Ahlan Simsim provides concrete lessons and strategies that form a crucial developmental foundation for all young children. Through the Ahlan Simsim show and early childhood development services in Iraq, Jordan, Lebanon, and Syria, we're reaching families affected by conflict and displacement with vital educational resources that children need to thrive.
About Sesame Workshop
Sesame Workshop is the nonprofit educational organization behind Sesame Street, the pioneering television show that has been reaching and teaching children since 1969. Today, Sesame Workshop is an innovative force for change, with a mission to help kids everywhere grow smarter, stronger, and kinder. We're present in more than 150 countries, serving vulnerable children through a wide range of media, formal education, and philanthropically funded social impact programs, each grounded in rigorous research and tailored to the needs and cultures of the communities we serve. For more information, please visit www.sesameworkshop.org