"Tourism Agents": In the Fourth Quarter of Current Year, 30–50 Thousand Tourists are Anticipated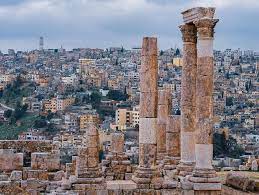 Al-Anbat -
Al-Anbat- DALAL OMER
Translated by: MAYS ALSHAWABKEH
Mahmoud Al-Khasawneh, a member of the Board of Directors of the Association of Tourism and Travel Agents, said that there is a surge in the number of visitors entering Jordan at the moment, particularly from the beginning of this month until mid-January of next year, which is a time of international vacations, Christmas holidays, and magnificent Christmases.
Al-Khasawneh claimed in a special interview with "Al-Anbat" that the U.S. market, which comes in first place, is where Jordan receives the majority of its tourists at the moment, followed by European markets, particularly the French, Italian, and German markets.
He mentioned that bookings for the final quarter of 2022 were 50% more than they were for the same time in 2019, and that 30-50,000 visitors were anticipated.
Al-Khasawneh claimed that the current inbound tourism consists primarily of historical classic tourism with stays of more than seven nights, followed by adventure tourism with stays of more than ten nights and religious tourism with stays of more than four nights.
He stressed the Assembly's present objective, which is to extend its stay in Jordan and boost spending.
Al-Khasawneh stated that the first three months of 2023 portend a rise in tourist numbers. As the Kingdom shows the best signs of recovery from the coronavirus pandemic, the Association of Tourism Agents predicts that bookings will represent a 70% rise compared to the same period in 2022. The world is currently experiencing a stable phase for tourism in terms of its overall health, thanks to aggressive marketing campaigns, hard effort, and alluring travel deals.
He praised the significance of expanding the idea of participation and openness with the State represented by the Ministry of Tourism, sitting at the discussion table to develop diverse marketing strategies, target new markets, and stabilize the ones that are already in operation.
Al-Khasawneh stated that booking ratios have not yet been impacted by the World Cup, but are anticipated to rise by only 5–10% when it is being held in Qatar starting in November.
He claimed that the absence of daily flights between the Kingdom and Doha, the capital city, at various points, the lack of a comprehensive World Cup marketing strategy, and the competition from nearby nations, particularly Dubai, which operated 60 daily flights to Doha, were the causes of the low number of reservations during that time.
At the end of August, tourism revenue totaled $3.645 billion, an increase of 161.6 over the first eight months of the year.
The increase was brought on by an increase in tourists visiting the Kingdom, that totaled 3.175 million. This gain was countered by an increase in tourism-related spending outside the Kingdom, which increased to $1.004 billion over the same period, an increase of 89.4% from the same period in 2021.