China's first solar probe monitors 100 solar explosions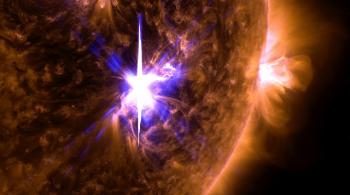 Al-Anbat -
Al-Anbat- Mohammad Alnimer
China National Space Administration reported that China's first solar exploration satellite observed about 100 solar explosions and completed tests and experiments in orbit.
Zhao Jian, the country's chief designer of the "Gaofen" program, said during a press conference on the advancement of the satellite that the scientific data from the satellite observations and its participation with the world had been officially released.
The "Shaikha" satellite, launched last October, operates in Sun-synchronized orbit at an average altitude of 517 kilometers, with the Solar Imaging Spectrometer (HA) being supplied as its main scientific payload.
Zhao said that for the first time in the world, the satellite obtained the exact structure of solar spectral lines (Ha, S I L and F E L) in orbit, which can directly reflect the characteristics of solar explosions.
In cooperation with China Aerospace Science and Technology Corporation, the University of Nanjing and the Chinese Academy of Sciences, the Administration conducted performance verification in orbit and the engineering application of the satellite platform technology with superior accuracy and stability
Unlike the traditional design, the new satellite platform has adopted magnetic lift control technology to ensure that load imaging is not affected by the platform's vibrations and to obtain a more stable and accurate imaging.
Zhao added that the technology is expected to be used in the country's future space missions, including high-precision remote sensing, solar body detection, and the discovery of planets outside the solar system.