Urging Ways of Joint Cooperation between Al-Balqa Applied University and the European Union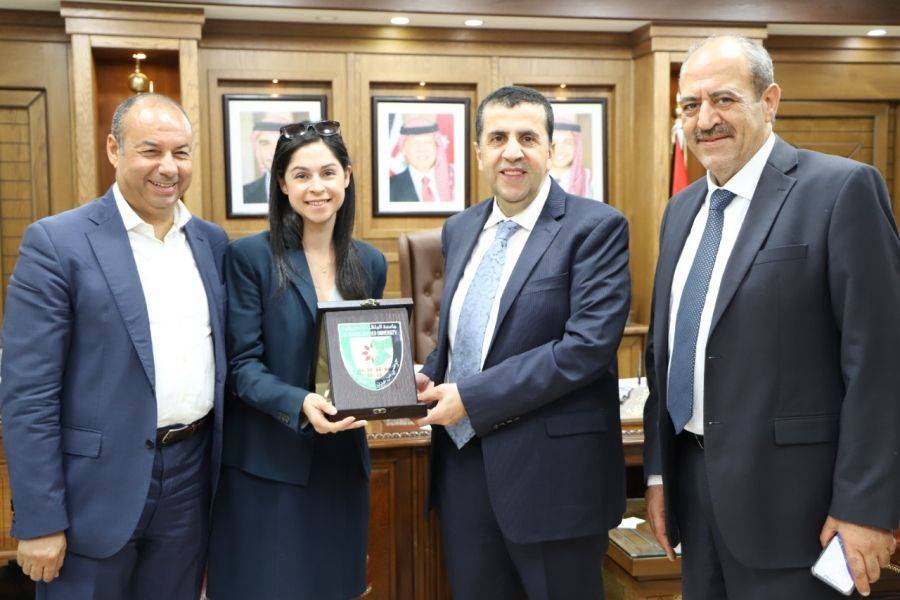 Al-Anbat -
During a visit to BAU to explore collaboration opportunities, the president of Al-Balqa Applied University Prof. Ahmad Al-Aljlouni met with a delegation from the European Union, the Director of the Technical and Vocational Employment and Training Project Ilona Zamarusi, and the Project Coordinator for the Middle East and North Africa, Mr. Mouneer Baty. The visitors were accompanied by Prof. Tariq Al-Azab and Dr. Khetam Shraideh, the director of the International Projects Department from the International Relations Unit at Al-Balqa Applied University.
Prof. Al-Ajlouni discussed ways of enhancing joint cooperation between the European Union and Al-Balqa Applied University by highlighting the challenges facing the university in the field of technical and vocational education to improve cooperation between the two parties.
Prof. Al-Ajlouni explained that Al-Balqa Applied University places a high emphasis on technical and vocational education in order to meet the needs of the local, regional, and international labor markets. In his remarks, Prof. Al-Ajlouni touched briefly on the university's relationship with international agencies, including the German Foundation for International Cooperation (GIZ), the Korean International Cooperation Agency (KOICA), and the German Employment Institute, as well as the academic exchange with European universities under the Erasmus Plus program. Additionally, Prof. Al-Ajlouni highlighted the university's high ranking locally and internationally.
After the meeting, the delegation visited Salt Technical Faculty, where they heard a brief presentation about the programs and specializations offered at Salt Technical Faculty that are crucial to the labor market and the local community, such as hybrid cars, artificial intelligence, smart facilities, digital media, big data science, and cyber security and network security.
In order to further Al-Balqa Applied University's great achievements in technical and vocational education, both sides agreed to increase joint visits and permanent cooperation.