HBKU's College of Islamic Studies Lecture Brings Message of Hope Ahead of Ramadan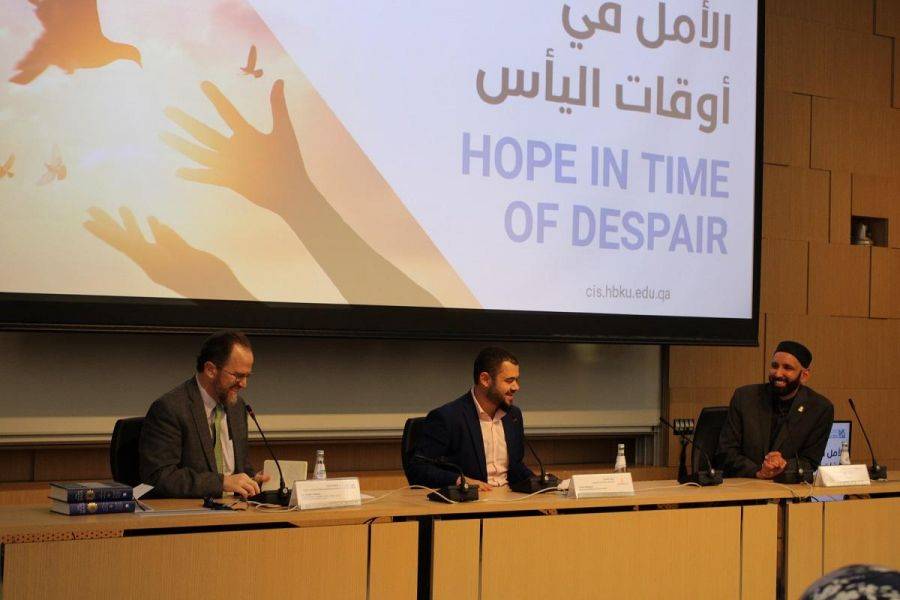 Al-Anbat -
Dr. Omar Suleiman highlights spiritual approach to contemporary challenges during guest lecture at Education City Mosque
Doha, March 29,2022 – The College of Islamic Studies (CIS) at Hamad Bin Khalifa University (HBKU) hosted a pre-Ramadan guest lecture "Hope in Time of Despair" by prominent American Muslim scholar Dr. Omar Suleiman on March 27.
Held at the Auditorium and Education City Mosque, the event drew close to 600 attendees, as well as members of the public, academics, and students. In his talk, Dr. Suleiman examined lessons of hope for confronting individual and collective struggles ahead of the Holy Month of Ramadan.
Introducing and interviewing Dr. Suleiman was a panel comprised of Dr. Joseph Lumbard, Associate Professor at CIS, and Jamal Elshayyal, an international award-winning senior correspondent at Al Jazeera Network.
Dr. Suleiman's lecture drew on examples of the prominent challenges currently facing the globe, from wars in different parts of the world to injustices being inflicted. Amid these crises, he offered a message of hope rooted in the vision of Islam and its framework of higher ethical objectives. He highlighted how the impact of the faith community's observance of the holy month can collectively bring hope and the potential for change to wider societies.
Founder and President of the Yaqeen Institute for Islamic Research, and an Adjunct Professor of Islamic Studies, Southern Methodist University, USA, Dr. Suleiman is widely known as an advocate of social justice and humanitarian Islam. As a Muslim scholar, civil rights leader, writer, and public speaker, his public and scholarly engagements and interfaith work contribute an Islamic perspective on contemporary challenges.
The event concluded with an opportunity for students, faculty, and guests to engage Dr. Suleiman on aspects of his lecture.
After attending the event, Dr. Emad El-Din Shahin, Dean at CIS, said: "Such forums help our efforts to promote dialogue enhanced by different perspectives and disciplines, to give our students a solid Islamic grounding to make sense of the complexity facing our societies. Ramadan is a time of reflection at the individual and societal level. Dr. Suleiman's lecture was a very fitting way for HBKU and the wider community to begin the holy month. It has truly enriched our thinking with its emphasis on spiritual discipline."
CIS, through public lectures and events, aims to provide a platform for students and faculty to contribute to critical intellectual debates on Islam in a global context. For more information on the programs at the College of Islamic Studies, please visit cis.hbku.edu.qa