Simsim Debuts New Muppet Character in Fifth Season Focused on Kindness to Oneself and Others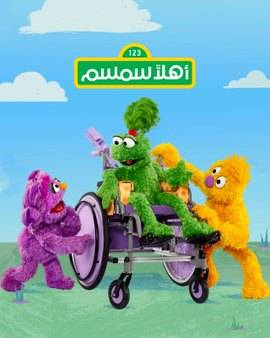 Al-Anbat -
New character Ameera deepens the show's emphasis on inclusion and social-emotional learning
Ahlan Simsim, the award-winning children's show from the creators of Iftah Ya Simsim and Sesame Street shows around the world, will premiere a new season and introduce new character, Ameera, in time for Ramadan.
A witty, inquisitive 8-year-old girl with a passion for science and basketball, Ameera uses her bright purple wheelchair or forearm crutches to get around due to a spinal cord injury. She's everyone's favorite comedian, and her great sense of humor serves her well as a natural leader who encourages others with her bright personality. Sometimes, Ameera gets too wrapped up in her own ideas and forgets to notice everyone else's, but she always remembers that play and learning are most fun when she includes her friends' ideas too.
Watch Ameera come to life.
Ameera makes her timely debut in season 5 of Ahlan simsim, which will focus on the social-emotional skills of kindness towards oneself and others and premieres across the Middle East and North Africa on the first day of Ramadan, the month of kindness. Ameera will join beloved Ahlan Simsim friends like Basma, Jad and Ma'zooza as well as familiar favorites like Elmo, Gargur (Grover), and Kaki (Cookie Monster), as they navigate setbacks and learn about mutual respect and kindness through play. Along the way, the Ahlan Simsim Muppets will help young viewers grow more confident and resilient in the face of life's ups and downs.
"Ameera continues Sesame Workshop's long history of creating diverse characters that children around the world can relate to, and we are so excited to welcome this exuberant 8-year-old girl to our cast of beloved Sesame Muppets," said Scott Cameron, Head of International Production at Sesame Workshop. "Ameera was in development for over two years and was designed with the guidance of inclusion advisors who helped ensure that her identity, movements, and equipment were representational. An instant favorite with our writers for humor and wit, we know that Ameera will inspire young viewers to be curious and confident."
Along with modeling the importance of children's appreciation of self in addition to others, episodes will include new and exciting segments on literacy, DIY, and Muppets and kids.
"It has been a highlight and a source of immense pride for the entire team to watch Ameera come to life on the Ahlan Simsim set, expanding our cast of characters and complementing this season's core theme of kindness towards oneself and others," said Khaled Haddad, Executive Producer of Ahlan Simsim. "Introducing a new character is always very exciting, but Ameera's debut is especially meaningful as it strengthens representation and inclusion within the series and the wider Ahlan Simsim program."
Produced in Amman with Jordan Pioneers, Ahlan Simsim is brought to life by a team of writers, producers, and performers from across the Middle East and North Africa. The show joins a long line of groundbreaking Arabic-language educational programs from Sesame Workshop.
Since its launch in February 2020, Ahlan Simsim has reached over 17 million children across the Middle East and North Africa. The show received a 2021 International Emmy nomination for the episode "Piece of The Past" and won the 2022 Anthem Gold Award for Special Projects in Humanitarian Action & Services.
Ahlan Simsim is more than a TV show—it is part of a broader humanitarian initiative of the same name, in a partnership between Sesame Workshop and the International Rescue Committee (IRC). Aimed at delivering early learning and nurturing care to children and caregivers affected by conflict and crisis, Ahlan Simsim provides concrete lessons and strategies that form a crucial developmental foundation for all young children, especially those who have suffered adverse experiences like the trauma of displacement. Through the Ahlan Simsim show and direct services in Iraq, Jordan, Lebanon, and Syria, we're reaching families affected by conflict and displacement with vital educational resources that children need to thrive.
Channels and timings:
Starting the first day of Ramadan, Season 5 of Ahlan Simsim will air daily on MBC3 from Sunday to Thursday at 1:30pm KSA.
Ahlan Simsim episodes will also be available on a variety of regional and national TV stations, including Rotana Kids and Sat 7, Roya TV and Jordan TV in Jordan, Nour Sat in Lebanon, Al Sumaria and UTV in Iraq.
Full episodes and bonus content are also available on the Ahlan Simsim YouTube channel. Visit www.ahlansimsim.org for videos, storybooks, and a variety of materials to support young children's at-home learning.