Collaboration Agreement between the Agricultural Research & Consulting Cooperative Association and UWallet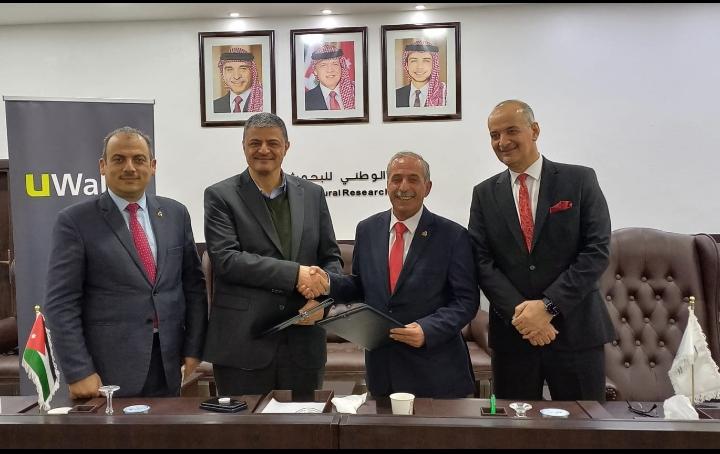 Al-Anbat -
The Director General of the National Agricultural Research Center (NARC), Dr. Nizar Haddad, patronized the signing ceremony of a collaboration agreement between the Agricultural Research & Consulting Cooperative Association and UWallet, in the presence of the Director General of the Jordan Cooperative Corporation (JCC), Mr. Abdul Fattah Al Shalabi, where this agreement came to empower rural women by marketing rural products using an electronic platform.
Haddad said that NARC has been employing the outputs of scientific research to serve the agricultural sector by empowering rural women; the twenty-first National Olive Festival and Rural Products' Exhibition was the best example of the women's ability to make positive change by opening marketing platforms for rural products, in addition to the pioneering projects of NARC that support the Jordanian women through the Agricultural Innovation Incubator and Farmers Field Schools. He described this agreement as an asset of NARC's partnership with the cooperative public sector and the private sector.
The CEO of UWallet, Dr. Ala'a Nshaiwat, expressed his appreciation to the role played by NARC towards finding marketing passages for rural women by launching an electronic platform for working women to sell their rural products and enabling them to engage with the Agricultural Research & Consulting Cooperative Association and UWallet, while emphasizing on the role of UWallet that sponsors the electronic platform; which is one of its initiatives to support the local community, that is going to be promoted through media by both parties.
Mr. Abdul Fattah Al Shalabi, the Director General of the JCC, stated that the JCC supports this pioneer achievement in developing rural women's businesses and empowering them, so that they become productive in their homes, and contribute to the marketing of their products, and certainly distinguished by the quality of rural products they make.
Eng. Sameer Suleiman, Head of the Agricultural Research & Consulting Cooperative Association, shed light on the importance of this agreement, as it is going to act in activating an electronic platform that will serve Jordanian women. He further added that the association will manage the platform to ensure the achievement of the targeted goals, having this electronic platform constantly developed and updated according to the global markets to save time and effort through online marketing.