Al-Balqa Applied University and the World Water Academy strengthen their partnership towards providing sustainable solutions to the challenges of the water sector in Jordan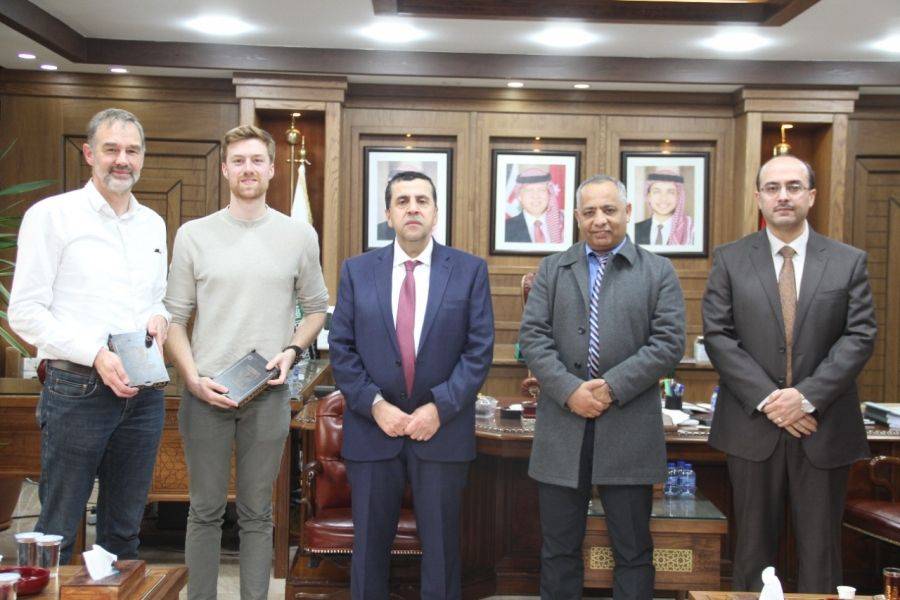 Al-Anbat -
His Excellency Prof. Ahmad Al-Ajlouni, President of Al-Balqa Applied University – Jordan, received in his office Mr. Gerard van Houwelingen and Mr. Bram Ooms, trainers and advisors at the World Water Academy, based in the Kingdom of the Netherlands.
HE University President discussed with Dutch experts the role of the World Water Academy in implementing the activities of joint projects between Al-Balqa Applied University, World Water Academy, and IHE Delft, especially the WATRA project. WATRA is hosted in the Deanship of Scientific Research at Al-Balqa Applied University. It aims at building an innovative business plan that shapes the future of the International Center for Water, Environment and Energy Research (IRCWEE) at the university and enhances its role in the service of research and researchers at the local and international levels.
The experts presented a summary of the World Water Academy activities around the world, and about its role in achieving sustainable development goals through specialized technical training programs targeting human and technical resources in the water sector. Further, they explained their contribution toward building a business incubator that will be an interactive platform for researchers, graduate students and for undergraduate seminars and projects. Finally, they discuss the expected impact of the project in the foreseeable and long-term.
HE University President stressed the depth of the partnership between the university and the World Water Academy and with IHE Delft. HE said, "the three institutions formed excellent integrated team towards achieving the goals of joint project". Further, HE University President, valued the role the project towards development, improvement, and sustainability.
Finally, HE University President commended the continuous support of the Dutch government to the University, especially through the Dutch Organization for Internationalization in Education (NUFFIC) within the OKP Program. HE thanked the Dutch government and the Dutch people for their cooperation and support towards a more prosperous and stable future and emphasized the important role played by the Embassy of the Kingdom of the Netherlands towards supporting the aspirations of Al-Balqa Applied University, and technical and vocational educational institutions in Jordan.
The meeting was attended by Prof. Dr. Saeid Abu Romman, Dean of Scientific Research and Innovation at Al-Balqa Applied University, and Dr. Naser Almanaseer, Principal Investigator and Project Manager of the WATRA Project.