Embassy of Japan and Al-Balqa Applied University held a seminar,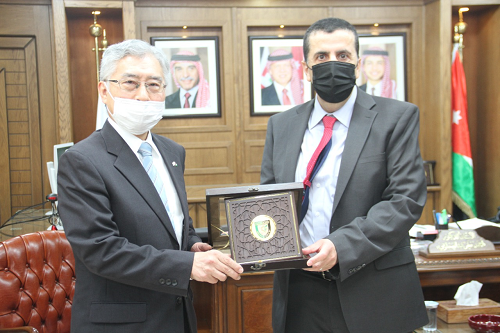 Al-Anbat -
hosting a Japanese expert in climate change and water issues
On 28 February 2022, the Embassy of Japan in Jordan and Al-Balqa Applied University held a scientific seminar on climate change and water challenges. In the seminar, Dr. Eng. KOIKE Toshio, Director of International Centre for Water Hazard and Risk Management, Public Works Research Institute in Japan gave a keynote speech, followed by a response speech by H.E. Dr. Hazem Al-Nasser, Former Minister of Water and Irrigation.
The keynote speech by Dr. KOIKE covered how climate change affects water challenges in Jordan and shed light on possible solutions, introducing how Japan's experience in dealing with the issues. On his side, H.E. Mr. SHIMAZAKI Kaoru, Ambassador of Japan to Jordan stated that climate change is one of the biggest challenges we all are facing today, while Japan understands the importance and gravity of the water crisis in Jordan, stressing that Japan places water issues among priorities of Japan's assistance policy in Jordan.
H.E. Dr. Hazem Al-Nasser explained Jordan's water situation and the impact of climate change, appreciating the efforts by the Government of Japan to improve the water supply system in Jordan, and hoping to further promote bilateral cooperation in the sector.
Prof. Dr. Ahmed Al-Ajlouni, President of Al-Balqa Applied University welcomed the contributions by speakers and attendees, expressing his appreciation for the important opportunity to discuss impact of climate change on the water problem in Jordan. He emphasized the importance of climate and water issues in this century and the necessity to continue discussion and research on the two crucial issues for Jordan.