Police arrest 3 suspects for stealing Irbid restaurant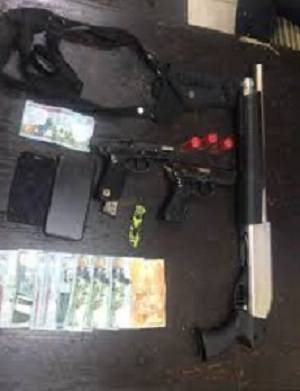 Al-Anbat -
Criminal Investigation Department (CID) personnel on Monday arrested, in record time, three suspects for allegedly stealing a sum of money, at gunpoint, from a restaurant in the northern Governorate of Irbid.
Yesterday, the main operations room in the Irbid Governorate Police Directorate, was tipped off on masked and armed unknown suspect who had entered a restaurant in the city of Irbid and had stolen a sum of money from its workers at gunpoint, a Public Security Directorate (PSD) spokesperson said Monday in a statement.
A CID special investigative team immediately began investigating the case and collecting information, and was able, within hours, and to identify the three suspect involved in the crime, the PSD spokesperson added.
These suspects were arrested, after raiding their whereabouts and seizing three firearms and most of the stolen amount, the spokesperson noted, explaining that upon interrogation they confessed to plotting and executing the pillage jointly.