Nominations Open for The Maritime Standard Awards 2019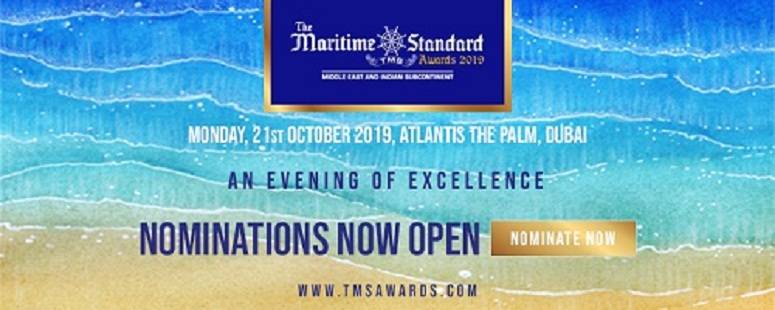 Al-Anbat -
Nominations are now open for The Maritime Standard Awards 2019, which will take place at Atlantis The Palm, Dubai on Monday, October 21st. As always, the event will reward and recognise high achievers within the shipping and maritime sectors in a glittering, high quality ceremony attended by key decision makers from across the Middle East and the Indian Subcontinent.
This is the sixth time that the Awards have been staged by The Maritime Standard to celebrate success, quality and innovation within the region's maritime industry. It is expected around 29 different awards will be presented on the night, the majority of which will be selected by an eminent panel of independent judges. A full list of categories, and how to enter, can be found on the website: http://www.tmsawards.com/award-categories/
Nominations are invited from companies active in shipping, ports and other segments of the maritime market in the Middle East and the Indian Subcontinent. Clive Woodbridge, Editor of The Maritime Standard, and Chairman of the judging panel says, "We are expecting another record number of entries and, if last year is anything to go by, it will be extremely difficult to separate them. The level of quality and innovation in the region is at an all-time high and that is reflected in intense competition for all these awards."
TMS Awards judging panel comprises several eminent executives, all renowned experts in their fields with many years of experience in various aspects of the maritime industry. The judges are drawn from across the region and independently assess the nominations and submit marks based on predetermined criteria to ensure a transparent and fair process.
This year The Maritime Standard is pleased to confirm that the judges will be: Captain Mohamed Juma Al Shamisi, CEO, Abu Dhabi Ports; Abdullah Bin Damithan, Chief Commercial Officer, DP World; Capt. Abdulkareem Al Masabi, Chief Executive, ADNOC Logistics & Services; Ali Shehab, Acting CEO, Kuwait Oil Tanker Company (KOTC); Capt. Anoop Kumar Sharma, Chairman and Managing Director, The Shipping Corporation of India; Capt. Jitendra Misra, Managing Director, Emarat Maritime; Capt. S.R. Patnaik, Director and Chief Executive Officer, International Shipping and Logistics; Rajiv Agarwal, Managing Director and CEO of Essar Ports; Ruwan Waidyaratne, Chairman of CASA and Managing Director of Hayley's Advantis Limited and Clive Woodbridge, Editor, The Maritime Standard.
The deadline for submitting nominations is 9th August 2019. Clive Woodbridge adds: "Taking the time to put together a persuasive case for your company, while bearing in mind the criteria set out for each category, is vital. This year we are opening nominations a little earlier than we have in the past so please use that time wisely!"
For more information about the Awards and how to nominate, please visit our website: https://www.tmsawards.com/entry-guidelines/