Yara Performs at Vigo Video's Live Streaming Awards Ceremony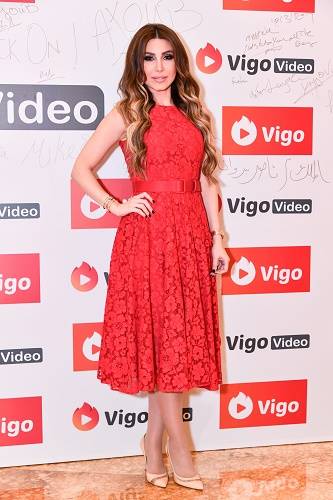 Al-Anbat -
Event attracts 200,000 views in 3 hours
Abu Dhabi, United Arab Emirates, March 14, 2019, (AETOSWire) - Vigo Video yesterday presented its livestreaming award ceremony in Abu Dhabi at the Jumeirah Hotel at Etihad Towers with famous singer Yara, Carla Nazih al-Berkashi, performing at the event.
The famous Lebanese singer performed 3 of her most popular songs, among them "Ma Baaref", to the event audience as well as her fans on Vigo Video. The entire event was broadcasted live, attracting more than 200,000 views on Vigo Video in less than 3 hours.
Vigo Video announced the best performing anchors of the "Star-making Program", a 50-million-dollar initiative that was launched on December of last year to invest in creative local anchors in the region. For the month of January and February, Vigo Video selected over 30 anchors to attend the awarding ceremony and celebrate their success. Three of the winning anchors that are also talented singers performed live at the event and received much engagement from the top Vigo users who were attending as well as the spectators watching them live on Vigo.
To engage with the online audience on Vigo Video, prizes such as Cartier jewelry, iPhone Xs Max and iPad Pro were randomly presented to users commenting on the live by Yara, as well as Vigo's best anchor and user, Nana and Mr. Rolex.
During the event, Vigo Video also announced its plans for product development to drive user engagement this upcoming year. The rising live streaming application in the Middle East is working to diversify app content by launching engaging plans such as the 'Star Making Program' which has quickly attracted anchors to share their talents, further widening its content categories including cuisine, comedy and gaming, etc. Vigo Video also continues to improve app functionality and develop new interactive features to drive user engagement.
This is the second event Vigo Video has launched in the Middle East in the last 4 months in effort to increase brand awareness of the application's Live function within the region. Vigo Video plans to continue to drive brand awareness by cooperating with popular celebrities and established organizations.
Vigo Video is now among the Top Free Apps on Google Play and the Apple Store in the Middle East region, especially Saudi Arabia and United Arab Emirates.
About Vigo Video
Vigo Video is an original short video platform for people to share their stories and showcase their talent. Vigo Video empowers users with easy-to-use video editing tools, stickers and special effects to capture vivid moments for sharing and to connect with people in the Vigo community with similar interests.