Abu-Ghazaleh a Guest of Honor at Emirates Higher Education Summit at American University in Dubai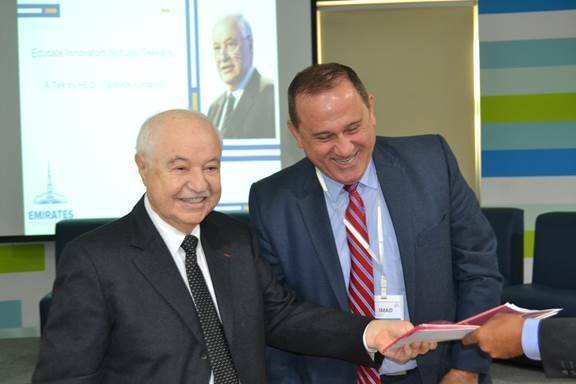 Al-Anbat -
DUBAI – The American University in Dubai (AUD) hosted HE Dr. Talal Abu-Ghazaleh, founder and chairman of Talal Abu-Ghazaleh Organization (TAG-Org), as a guest of honor at the Emirates for Higher Education Summit.
The meeting, held at the AUD premises, focussed on the education sector in the United Arab Emirates and the latest global advancements in relation to higher education institutions.
The Summit also aimed at marketing the UAE as a destination for higher education, particularly with the attendance of more than 50 education agents from different countries including China, India, Kazakhstan, Nigeria, Ghana and Kenya in addition to the active participation from the Arab countries and the Gulf States in particular.
Dr. Abu-Ghazaleh addressed attendees saying he is not concerned about higher education in the UAE saying, "I say it confidently and loudly that I am not worried at all about the future of this important sector," extending his gratitude to His Highness Sheikh Mohammed bin Rashid Al Maktoum, the Vice President and Prime Minister of the United Arab Emirates, and Ruler of the Emirate of Dubai for his optimistic outlook and various initiatives that strive to secure a better future through education.
Dr. Abu-Ghazaleh started his speech by citing examples of role models who succeeded and excelled in innovation without attending school. Dr. Abu-Ghazaleh quoted Albert Einstein who said 'School failed me, and I failed school', and also referred to Jack Ma, co-founder and chairman of Alibaba Group, one of the world's largest e-commerce businesses who once told his son: "You don't need to be in the top three in your class, being in the middle is fine, so long as your grades aren't too bad. Only this kind of person has enough free time to learn other skills."
He further noted that the current world education system needs radical development to adapt in a world of rapid change stressing the fact that teachers in the new era should become mentors for students and motivate them to search and invest in knowledge and information.
He affirmed that that is why he established the Talal Abu-Ghazaleh University College for Innovation in which classrooms are business incubators and teachers are mentors, supporters and instructors. "There is no room for exams and traditional education in this College which aims at graduating inventors not job seekers."
Moreover, Dr. Abu-Ghazaleh mentioned his newly published book entitled "The Brave Knowledge World" which introduces his lifelong vision and philosophy relating to the Knowledge Revolution and its impact on the future of humanity.
He went on to explain that "The timing of the Summit is very important; many countries have a deficiency in their education systems while the world is entering the third decade of 21st Century. Additionally, the quality of education in the Arab world has been deteriorating, according to Davos Quality in Education Index which measures this vital sector in 140 countries around the world."
This deterioration, according to Abu-Ghazaleh, is attributed to the lack of appropriate education infrastructure and deficiency of the curriculum in terms of global advances in various sciences and technology.
Meanwhile Dr. Abu-Ghazaleh pointed out that there are many concerns regarding the rise of Artificial Intelligence (AI) in our world.
"The Labor market, various industries and even educational systems around the world are watching the development in the AI field closely and they are a bit terrified. Could machines using Artificial Intelligence make doctors obsolete? It is not a question of maybe, but when!"
Accordingly, Talal Abu-Ghazaleh Organization established a specialized department that offers consulting services regarding various issues related to AI.
At the closing session of the Summit, Dr. Abu-Ghazaleh awarded Certificates of Attendance to all participants and received an honorary shield.
It is noteworthy to mention that Dr. Talal Abu-Ghazaleh is one of the most prominent business leaders in the world who has his own vision in economic and social development. He is the founder of the largest global organization of professional service firms in various fields including Intellectual Property, Auditing, Consulting, Legal Services, Training, Information Technology and Capacity Building, in addition to a University College specialized in innovation.
Talal Abu-Ghazaleh Organization operates through more than 100 offices and 150 representative offices around the world. TAG-Org aims to provide the Arab and foreign countries and corporations with professional services. It is considered the only international multilingual leading company in the region with a wide range of qualified and experienced professionals and quality services.