JUST turns 'bike friendly' with self service bicycles available for students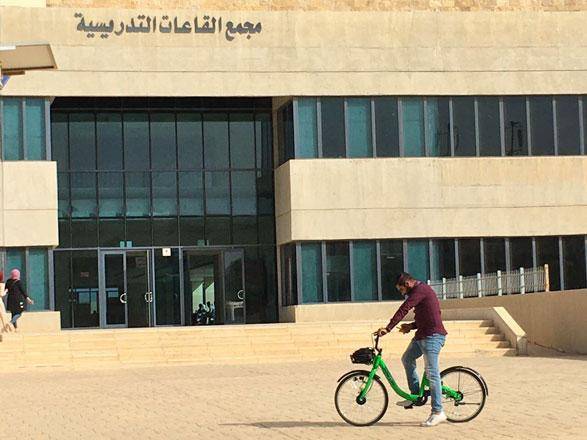 Al-Anbat -
IRBID — Catching classes at university used to be a daily nightmare for Mohammad Momani, as he used to suffer from the Jordan University of Science and Technology (JUST) campus' high traffic and the distance between colleges.
"I used to run a lot in order not to miss my lectures," he recounted.
Momani's ordeal came to an end earlier this month, as an initiative introduced by JUST's Centre of Excellence for Innovative Projects provided students with 250 bicycles, aiming to make transportation inside the university "easy and healthy".
"We can save effort and time and use modern technology in bikes. It is really a good thing because it encourages us to practice sports," Momani said with jubilation.
Called "Darajty" ("My bicycle" in Arabic), the initiative included providing students with bikes to rent, at a cost of two fils per minute.
The students use a mobile phone application that allows them to unlock the bikes.
The university's President Saeb Khresat said that they wanted to come up with creative projects based on smart applications.
The idea was also to provide students with environmentally friendly means of transportation, he said, adding that it also takes the pressure away from students in terms of schedule.
Darajty is implemented in cooperation with a smart company for engineering services, Khresat said, noting that "this is the first time that this idea is implemented in the region and this system is followed by many European countries."
He stressed the importance of following the "bicycle culture" locally as it is "healthy, saves time and protects the environment".
"This bike was designed not exceed 30 kilometres per hour, to ensure the safety of students," the president added, noting that specific lanes were also designed inside the campus to better organise the process.
The first phase of the project, which was used as a testing period, included 250 bicycles, with 2,000 students registered to use the bicycles.
The number recently increased to 8,000 students, which will require a higher number of bicycles, according to the university's president, who highlighted other local universities' interest in implementing similar projects.