"Khalili" adores the Al-Faisali Club as Ja'abari speaks to Al-Anbat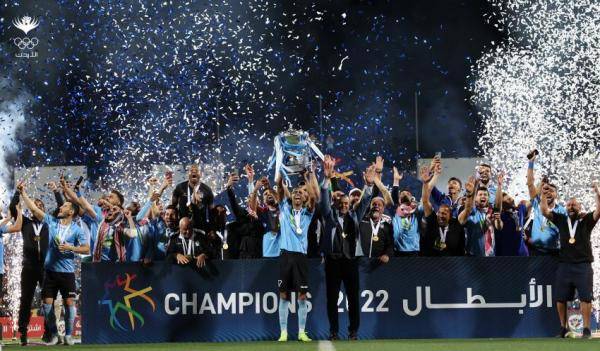 Al-Anbat -
Al-Anbat-Minas Bani Yaseen
Translated by: MAYS ALSHAWABKEH
Al-Anbat is addressed by Ja 'abari. Munthir Ja 'abari, a Palestinian citizen, was brought together with the late former President of the Jordanian Al-Faisali Club Sheikh Sultan Al-Adwan and Sheikh Abu Anwar Wreikat in Palestine in 1999 when Ja' abari was tasked with hosting the following Jordanian group to tour Hebron.
Ja'abari, speaking to Al-Anbat, said that he had spent a period of time with the Jordanian delegation, which led him to see the moral, disciplinary and administrative system enjoyed by the Jordanian delegation under the chairmanship of Al-Adwan, which aggravated him and deeply influenced his feelings vis-à-vis Al-Faisali Club after living a sense of national unity between Jordan and Palest.
Ja 'abari recalls the words of Al-Adwan in his session, when he said: "We are all one people with one blood and we face the same fate", which he encouraged most to establish a special association to encourage the Al Faisali Club in Palestine, as well as to accompany the players of the club when he was delivering them to their relatives in the West Bank.
Ja 'abari recounts one of his adventures when Hebron was experiencing difficult and critical events and this coincided with those events the culmination of the Al Faisali Club where it was unable to attend the coronation, however, he was unable to resist his noble feelings towards al-Faisali and started the next day amid the dangers and tightened his travels to the crossing and then to Zarqa Governorate to attend the celebration with the fans and then return to the bank where he lives.
He continues, Al Faisali has always been close to me, and I don't remember a visit to the club except that I was honored by the club and found the best and finest hospitality, so that the club was preparing me for its academy cubs and allocating us a bus to and from the crossing, which made me love this club more and more.
Sheikh Sultan Al-Adwan loves Palestine, and has consistently supported the Palestinian case and the rights of the Palestinian people in all forums, and my message with full respect to all the clubs I have been keen to communicate through the association I have established, that "the Palestinian case is greater than anything, and the West and Eastern Bank belongs to one blood" he said.
In response, he says, I always replied, "You lift the slogans and make the game a battleground for differentiation." Explaining that the conflicts between the fans and sports clubs exist in all countries of the world, but they are within customary sports boundaries, explaining that they are beautiful problems and have a special chandelier, but far from slogans that hurt one party at another's an expense and carry words outside the sportswear.
He stressed that many Palestinian clubs congratulated and blessed al-Faisali with the league championship.
My identity has nothing to do with the most encouraging clubs. Everyone is free to choose, and I am personally convinced, "It is the team that represents Palestine that lives in Palestine", and I do not deny those outside Palestinian territory but there are clubs and a team that represents Palestine.
He pointed out that as Arab peoples we encourage and love European and foreign teams, and the Palestinian club that lives with me on Palestinian land and suffers the same suffering I suffer, represents me, with full respect for all clubs outside Palestine, and these are my convictions.
He added that a delegation from Hebron would come to bless Al-Faisali Club "Faisali has great credit for Munthzir Ja 'abari as a person where he introduced me to great values and personalities."
I love the player Hasuna Elsheikh, the coach Jamal Abed and the young Ameen Shannaina. I find him a player with a big future.