Encouragement for the Program of Organ Donation After Brain Death and Calls for the Development of an Organ Transplant Facility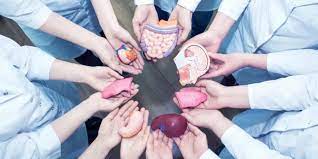 Al-Anbat -
Al-Anbat- Faisal Arabeyat , Zaina Albarboor
Translate by MAYS ALSHAWABKEH
To assure legal benefit and coverage, religious authorities have released a number of advisory opinions on the legality of member donation under certain circumstances. Despite the numerous barriers and difficulties that this noble endeavor faces, numerous governmental and private entities are attempting to expand the culture of donating members throughout Jordan because of its reward, humanity, and immense benefits to residents around the globe.
Organ trade is illegal in Jordan, according to the law. Although we are aware that risk and need are crucial to reducing incidents of organ sale, even though it is illegal overall or an offense, Jordanian legislation and the expansion of international treaties that forbid such behavior.
In a similar vein, legal authority Sameeh Khreis stated that there are two general categories under which organ donation is governed. The first is the medical component, which ensures that the tissue from the donor and that of the recipient are similar and compatible. The second is that the donor be an adult, sane, and acting completely on his own initiative and free choice.
Regarding the donation of the deceased's organs, he stated that the donated portion would be taken out after death, after he had written and signed his will with full knowledge so that it would be recognized as legally binding and supplementary to it.
Khreis stated that the legislation applied the penalty of members' merchants to permanent impairment, such as (complete elimination of a human being), and that it may be 10 years.
To settle the legitimate conditions that must be met in this case, namely that the donor is fully qualified, i.e. no one may donate to his father for example, the Service responded to "Al- Anbat's" queries by phone and stated that organ donation is legal and may be desirable. While confirming his agreement and avoiding being taken advantage of, (heirs do not inherit the deceased's body). Medical confirmation of the transplant's success, i.e., that it did not risk the donor's life or damage the organ. In addition to the contribution by the other party not having been used as a means of sale or other means of treatment, the donor party has a very high success rate for the transaction. It should be emphasized that these qualifications apply to both living and deceased citizens.
In a similar vein, the Mufti of the Kingdom, Sheikh Abdul Kareem Al-Khasawneh, stated that organ donation is permissible if all legal requirements for revival are met, but added that it is a moral dilemma relative to the deceased, particularly in light of some scholars who have since died opposing donation after death.
In a private conversation with Al-Anbat, he emphasized that, in terms of the deceased's parents being able to propose organ donation before his passing, the deceased may properly do so.
He reinforced his speech by saying God Almighty in the Holy Quran: "who ever killed a soul, except for a soul slain, or for sedition in the earth, it should be considered as though he had killed all mankind; and that who ever saved it should be regarded as though he had saved all mankind" and Allah's Messenger (ﷺ) said, "A Muslim is a brother of another Muslim, so he should not oppress him, nor should he hand him over to an oppressor. Whoever fulfilled the needs of his brother, Allah will fulfill his needs; whoever brought his (Muslim) brother out of a discomfort, Allah will bring him out of the discomforts of the Day of Resurrection, and whoever screened a Muslim, Allah will screen him on the Day of Resurrection . " .
Likewise, Dr. Hussein Mhadeen, Professor of Sociology and Crime at Mutah University and a study found that the concept of death, in all its ambiguity to people, creates a form of anxiety or uncertainty for the general population. On the other hand, associations and bodies in charge of such significant initiatives as organ donation have failed because of people's culture and level of sincere adherence to the meaning of death.
He explained in special statements to Al-Anbat that numerous studies have shown that organ donation to brain dead patients prevents thousands of human problems from preventing life.
According to him, community culture is weak in this area and stronger than the legal advisory opinion in practice, so people's willingness to donate organs is a result of community culture, customs, and traditions, despite the fact that there is a legitimate advisory opinion authorizing the donation of organs.
Additionally, despite the existence of a legal process that guarantees and protects the sanctity of the body through procedures for transporting organs through different stages through doctors specializing in this type of operation, some people still hold the belief that the body is sacred even after the person has passed away, which contributes to the lack of organ donations.
Both public and private organisations in Jordan are interested in this material. It still has to make individual efforts to spread the word about its wonderful ideals due to its low resources and the lack of volunteer support, which is only one of the many difficulties it encounters. Due to the fact that they are aware of the low percentage of donors compared to other international communities, numerous Jordanian associations and doctors abroad and in the United States have called for the construction of a national center for organ donation.
In response, Dr. Anwar Al-Nweiri, the director of the Jordanian Center for Organ Transplantation, stated that the Center serves as the official representative of the Ministry of Health in the Hashemite Kingdom of Jordan and is responsible for administering, organizing, supervising, and educating all health-related fields with regard to organ donation and transplantation.
According to statements made to Al-Anbat, the Directorate has conducted training sessions, lectures, taken part in medical conferences, and raised awareness both internally and externally since the Directorate was established in 2010.
He emphasized that the Directorate constantly coordinates with the Anti-Trafficking Department of the Public Security Directorate to prevent exploitation or prevent any operations that do not meet the legal and legislative requirements according to the procedure manual for donation and transplantation. He added that there is a role for the Directorate to monitor and audit all donor patients for organic failure patients in all hospitals where organ transplants are performed. Jordan is totally free of any membership trade.
Al-Nweiri urged everyone—public and private organizations, as well as individuals—to cooperate in order to encourage sincere and successful efforts from all fields of medicine, culture, religion, law, legislation, media, and politics to support the organ donation program after brain death.