Maintenance and excavations at Al Zubaydiah school at the height of students receiving their education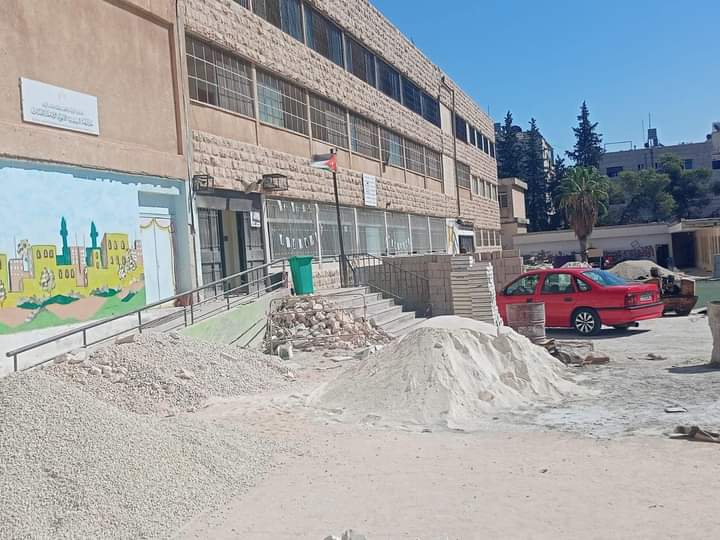 Al-Anbat -
AlAnbat- Shatha Hatamleh
Translated by Adel Fareed
It is customary in societies and developed countries that infrastructure maintenance for government facilities and institutions is carried out at times after the end of work, but what happens to us is the exact opposite, as we see maintenance teams conducting their operations during official working hours without paying attention to the extent of the impact of maintenance operations on workers and students in these institutions.
"AlAnbat" mail received complaints from the families of many students of Al Zubaydiah School for Girls located in Al Hashmi Al Shamali, which included that one of the maintenance teams of the Ministry of Education carried out maintenance work, excavations, and deep expansion inside the school campus and during the students' official working hours. Which stood as an obstacle to the benefit of these students from their school lessons.
The citizens continued their complaints, explaining that these reforms and excavations pose a kind of danger to the lives of students in the school, especially that the school building is old and dilapidated and liable to collapse at any moment and is nearly fifty years old, as they said.
The administration of Al Zubaydiah School has put the Directorate of Education in the picture of the scene, especially after the students' families refused maintenance work at a time when their children have the right to receive their education, and in turn, the Directorate of Education sent representatives to see the progress of maintenance and excavation operations, but their response "that the building It is safe and has no defects, and they suggested that the principal disable secondary school students from school hours, and their argument was that most of the students are registered in centers and have electronic teaching cards, and they put warning tapes around the area of maintenance and excavation work, according to the students and their families.
The Director of the International Buildings and Projects Department at the Ministry of Education, Dr. Eng. Ibrahim Samama, said that maintenance work is being carried out gradually, building and then another building, indicating that the building in which maintenance work is carried out does not contain students.
He added that the maintenance work that is carried out in this school is based on a study carried out by the Royal Society, pointing out that the maintenance work is carried out in coordination with the Director of Education and the school director so that coordination is carried out provided that maintenance work is carried out without violating the educational process, carefully and according to the rules, knowing that there is supervision by Engineers in the Directorate of Engineering Affairs of the Department of Buildings.