Dozens of Palestinians hurt by Israeli troops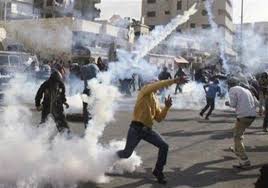 Al-Anbat -
Dozens of Palestinians suffered breathing problems on Saturday when Israeli occupation forces fired tear gas during a raid of a village in the northern West Bank, which triggered clashes with local youth.
The Palestinian Red Crescent Society said in a statement that dozens of Palestinians were hurt after inhaling toxic gas which was fired heavily during the raid into the village of Zabuba, west of the town of Jenin, and they were treated on the spot by Red Crescent medics.
It said that soldiers detained and interrogated a 17-year-old boy for hours during the storming of the village, which was one of almost daily search-and-arrest raids into Palestinian towns and villages.